Will Jose Altuve be an Astro for life?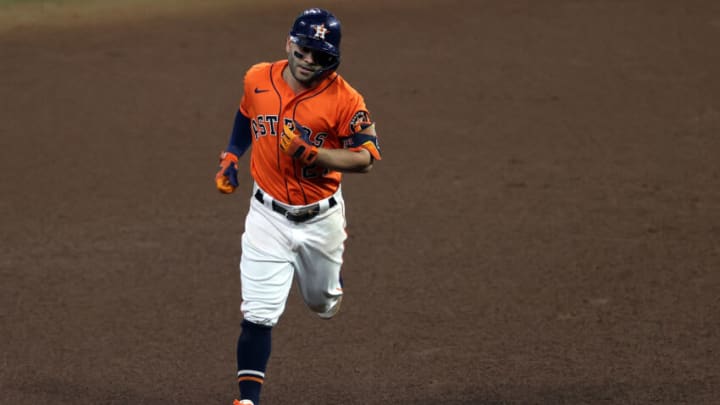 (Photo by Bob Levey/Getty Images) /
Mandatory Credit: Troy Taormina-USA TODAY Sports /
Productiveness
The first hurdle will be what Altuve's productiveness is by the year 2025, when he will be 34-years-old and able to test free agency for the first time in his career. Will he be productive enough for the Astros to re-sign him? And at what cost? And for how long?
Surprisingly for a guy who's been known for his bat to ball skills throughout his career, developing power later on, Altuve tied his career high in home runs at 31 this past year. His batting average of .278 however was the lowest of his career in a full season since his rookie year when he hit .276.
Altuve loves fastballs but as he ages and his bat speed slows, those fractions of seconds can be the difference between home runs and foul balls or even complete swings and misses which could severely cut his ability to produce.
There are pluses on Altuve's side such as his speed which can make up for some missed pitches beating out ground balls on infield hits. Then again that speed will slow with age as well.
The biggest plus for Altuve being productive late into his career is how intelligent he is and his ability to read pitchers and adjust. Look no further than his two at-bats against Chad Green this past year where he hit game winning home runs.
In Yankee stadium in May, with runners on second and third down and down two runs, Altuve sat on a neck high fastball in a 3-2 count yanking it out to left field for a three run home run to give the Astros a 5-3 lead that would hold and give them the win that day.
About a month later in Minute Maid Park Chad Green was on the mound again and Altuve had a 1-1 count with runners on first and third this time.
There was a mound visit. Altuve sat off-speed and hit a slider at his ankles out to left field for yet again, a three run home run that gave the Astros the win.
His baseball IQ is enough to counteract at least some of the inevitable effects aging will have on his physical abilities and his leadership could be enough for the Astros to sign him even in his declining years.