Will Jose Altuve be an Astro for life?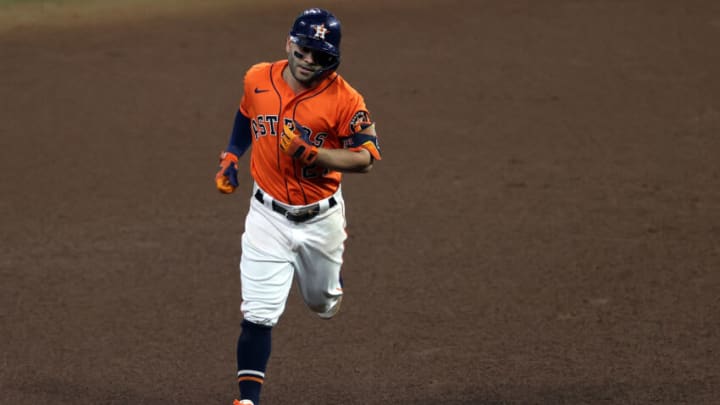 (Photo by Bob Levey/Getty Images) /
Mandatory Credit: Brett Davis-USA TODAY Sports /
Finances
There are a lot of factors to consider in this category. Not just how much money Jose Altuve will want and for how many years, but will Altuve's demands fit with the demands of younger and most likely more productive players.
2025 is not just the end of Altuve's current contract, but Alex Bregman's as well. Bregman is a fantastic fielder with great power and terrific batting eye who is also four years younger than Altuve.
Will Bregman's demands be more than the Astros are willing to pay? Maybe rather than a six year deal with Bregman the Astros settle for a three year deal with Altuve and spend money elsewhere.
Looking into the future, it is highly unlikely the Astros keep both Altuve and Bregman in 2025 considering 2026 is the free agency year for Kyle Tucker, Yordan Alvarez, Jose Urquidy AND Framber Valdez.
If the Astros want a shot at keeping at least two of those guys they'll have to say goodbye to at least one of Bregman or Altuve and Altuve may make more sense to keep since at age 34 he'll be cheaper and have a shorter contract length.
This is all not counting hypothetical big free agent signings the Astros may incur in their quest for another World Series title, but it should be pretty clear that by 2025 the money being spent on Justin Verlander, Yuli Gurriel and Michael Brantley will be free (or significantly cheaper should those players remain productive in their late 30's, early 40's.)
Between Bregman and Altuve, Altuve will be the cheaper option for a team trying to remain competitive. The timing financially and career-wise could work for Altuve staying.