Houston Astros: Mid-Season Awards for the 2021 season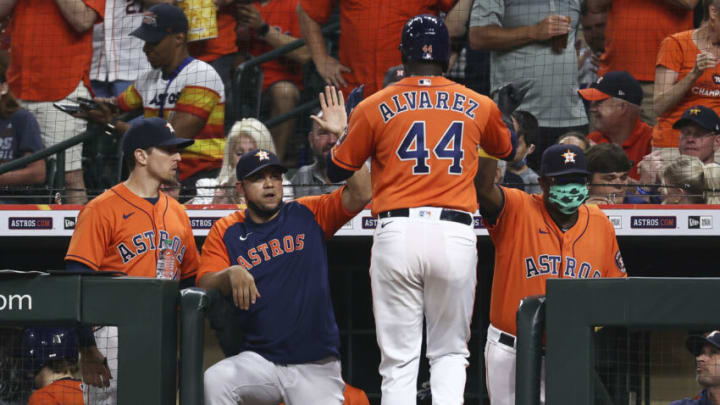 Mandatory Credit: Troy Taormina-USA TODAY Sports /
Jul 11, 2021; Houston, Texas, USA; Houston Astros second baseman Jose Altuve (27) prior to the game against the New York Yankees at Minute Maid Park. Mandatory Credit: Erik Williams-USA TODAY Sports /
MVP – Jose Altuve
This is a team with stars all over the field, but for MVP there is really only one choice: Jose Altuve.
Jose Altuve has a certain zest and energy that elevates everyone's level and makes this Astro team very special. After an unusual down year in 2020, Altuve is come back with a strong 2021 season (so far) – .278 BA with 20 HRs, 55 RBIs, .860 OPS and 3.0 Wins Above Replacement (WAR).
Altuve is also responsible for the three biggest moments of the first half – the walk-off grand slam against the Rangers on June 15th, the go-ahead homer against the Yankees on May 6th, and his amazing walk-off home run this last Sunday (also against the Yankees).
Jose Altuve has dominated the Yankees in years past, and both New York players and fans or trying to deal with it the best way they can — by bullying him. This past weekend was no different. The Yankees came in won the first two games of the series by shutting out the Astros offense. During the Saturday game, Aaron Judge smacked a homer and then mocked Jose Altuve while rounding third by covering his jersey, referencing the 2019 ridiculous buzzer conspiracy.
The Yankees continued to mock Altuve deep into Sunday's game when Gary Sanchez did the same "cover my jersey I'm cold" move after he hit his three-run home run. The fourth place Yankees were talking all sorts of crap the entire series, and mostly at the expense of Jose Altuve. And, with true poetic justice, it came back to bite them in the face.
More from Climbing Tal's Hill
In the bottom of the ninth inning – the same inning where Altuve-wannabe Aaron Judge misplayed a deep fly ball and where Aaron Boone opted against using closer Aroldis Chapman – the Astros rallied and scored three runs to make the score 7-5 New York. Then, with two men on, Jose Altuve hit a no-doubter off Chad Green into the Crawford Boxes – Astros win in miraculous fashion and Minute Maid Park goes into a frenzy.
But here is why Altuve is a true MVP – He hit the biggest home run of the season, then simply ran around the bases and didn't mock the Yankees. He didn't show his chest, he didn't mock the Yankees ridiculous home-run coat celebration, he didn't stare down anyone. He just smiled. Yes, his teammates did the smack-talk for him – Maldonado and company met him at home plate and ripped his shirt off for him for all to see his chest tattoo – but again, all Altuve did was give high-fives, jump in jubilant celebration with his teammates and smile.
There's a stark difference between Yankee MVP Aaron Judge and Astro MVP Jose Altuve. Aaron Judge puffs his chest, takes veiled shots at Altuve whenever he can and when it's winning time with the stakes high – he shrinks. Jose Altuve doesn't engage the smack talk (at least not publicly), he lets his play do all the talking and when it's winning time with the stakes high, he stands twenty-feet tall.
That should be the theme for the 2021 Houston Astros, a team that is loathed by the other 29 fan bases and most major media outlets. Let guys like Trevor Bauer and Aaron Judge and twitter know-it-alls do all the petty smack-talking – the Astros will continue to do all the hitting and winning. I'm excited for the second half. You should be too.
More post-draft signings:
RHPs Ray Gaither of Dallas Baptist University and Jacob DeLabio of Carthage College signed with the Astros on Wednesday.