Houston Astros: Mid-Season Awards for the 2021 season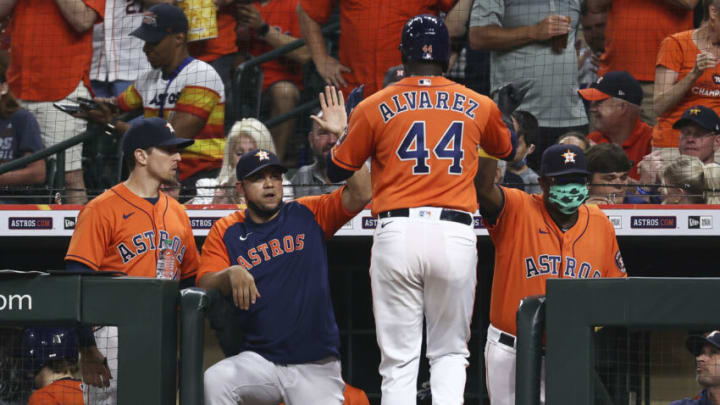 Mandatory Credit: Troy Taormina-USA TODAY Sports /
(Photo by Jason Miller/Getty Images) /
Individual Awards:
Most Improved – Myles Straw
Most improved goes to the new starting center fielder Myles Straw. In prior years, Straw was seen only as a speedster with a subpar bat that didn't have the upside to be an everyday player. But Straw is proven to everyone in the league that he's a Starting center fielder with maybe even more potential.
Straw finished the first half hitting .268 BA with and on-base percentage of .345 to go along with two HRs, 28 RBIs and 13 stolen bases. Straw hits for contact, he gets on base, he makes great defensive plays and as always is dangerous around the bases. His consistent solid performance at the bottom half of the lineup gives the Astros another level of potency with this batting order.
Best Bench Player – Chas McCormick
The Astros are loaded with surprising bench talent that's been able to produce, but the best non everyday player so far had been Chaz McCormick AKA "The Chazmanian Devil." McCormick was disappointed that he couldn't make his big-league debut last year, so he's made the most of his opportunities so far this year. McCormick is hitting .250 BA this year with 10 home runs, 35 RBIs and an OPS of .829. Although he does strike out more than you'd like (35% strike out rate in 140 AB), McCormick makes up for that with bat power, defense in the outfield and confident energy. It's hard to tell what you'll get from guys who are not everyday players, but you know what you get with McCormick – the guy is a winner.
More from Climbing Tal's Hill
Most Disappointing – Andre Scrubb
I am giving this award to Andre Scrubb – the surprise stud reliever from last year has been more of a dud thus far this season. Scrubb is posting a 5.30 ERA in 19 innings pitched, with 19 strikeouts and (gulp) 14 walks. Some of his low-lights for the season include a four walk outing he dealt in one inning against the Dodgers, and the two home runs and two walks he gave up in the ninth against the Padres on May 30 where he nearly blew Houston's six-run lead.
Granted Scrubb has been was dealing with some injuries early on this season, but when he's been healthy he has not been sharp on the mound. He has the highest walks per nine at anyone on the team (7.2) and has struggled with his fastball command.
This is only his second season as a professional, but as someone who anticipated him being a solid 7th inning or 8th inning option, I was expecting more from Andre Scrubb. Let's hope he can find that same groove on the mound he had in 2020 – the Astros bullpen needs it.
Gold Glove – Carlos Correa
Carlos Correa was robbed of his Gold Glove last year but looks to be the favorite to get the award at shortstop this year.The shortstop has turned 35 double plays and has a fielding percentage near 99% – ranking among the best in the bigs. The right-hander has saved eight runs defensively above replacement, which is second in the majors only behind Isiah Kiner-Falefa (11).
But that's just his numbers – the eye-ball test tells even more. Correa covers the infield like a cat – able to get to any ball on the ground – and has one of the strongest arms ever for the position. If he doesn't win the Gold Glove this year, it'll be a travesty. He's been simply amazing.
Cy Young – Zack Greinke
Houston has perhaps the deepest rotation in all the majors, with many pitchers very deserving. But let's give the team Cy Young Award to the guy who has an actual Cy Young Award: Zack Greinke.
The 37-year-old is putting together a solid campaign – 8-3 with a 3.59 ERA and 85 strikeouts over 115.1 innings. Greinke has a WHIP of 1.11 in 19 starts, well below the 1.30 league-average for 2021.  Some of Greinke's highlights include a scoreless six innings on opening night against the A's, the fore mentioned eight inning shutout against the Mariners on the road, and his one-earned run, six-hit complete game he threw against the Blue Jays.
This is a guy that generates outs and strikeouts without throwing pitches anywhere near 95 miles an hour – he does it all with placement, his amazing skillset, repertoire and mental toughness. His stats and performance are not near his peak 2009-2015 playing days, but Greinke continues to remind everyone he's still among the best in the game.
Silver Slugger – Yuli Gurriel & Michael Brantley
This award is a tie between Yuli Gurriel and Michael Brantley, who have both been terrific in 2021. How terrific? The two combined are hitting .322 from the plate for a .851 OPS and have anchored the best offense in the game. Michael Brantley is second in AL in batting average (.326 BA), third in doubles (23) and has the lowest strikeout rate in the AL (12.2%).
Meanwhile, Yuli Gurriel is fifth in the AL in batting average (.313), eighth in doubles (19) and led the AL is batting average for the months of April (.344 BA) and June (.366 BA). Combined these players are some of the toughest outs in all of baseball sitting in the heart of the order– both Brantley and Gurriel hit better with two strikes against them, they hit for average and they cash in with runners on the bases.