Houston Astros: Mid-Season Awards for the 2021 season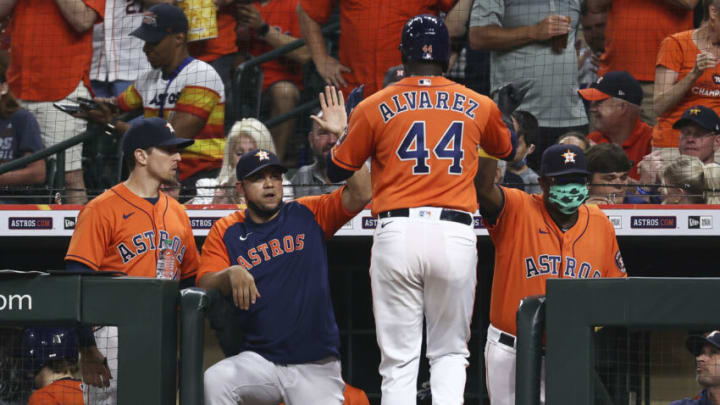 Mandatory Credit: Troy Taormina-USA TODAY Sports /
As we prepare for the second half of the baseball season, it's worth looking back on how the Houston Astros fared throughout during first half of the season. With the exception of a few brief losing streaks and some injuries, the Astros are having a very successful 2021 campaign thus far and have asserted themselves as a World Series favorite.
What have been the best moments of the season? Who have been the best players? Let's look back and give out our CTH mid-season awards.
Performance Awards:
Best Hitting Performance: Yordan Alvarez – July 6th vs. Oakland As
There have been a ton of great hitting performances by individuals, but Yordan Alvarez's performance against the Oakland A's on July 6th was something special. The left-hander had just rejoined the team back home after a brief stint on paternity leave. The new daddy came back hitting like "Big Papi."
Alvarez started the game with a massive three-run homer in the bottom of the first off Chris Bassitt. Then after a single in the bottom of the fourth, Alvarez struck again in the bottom of the fifth with another two-out three-run blast to left center that tied up the game – again off Bassitt. Alvarez finished the game 3-for-3 with two homers, five RBI, one single and one "please don't hurt us again" intentional walk. Let's hope he can tap into that new dad bat power even more in the second half.
Best Pitching Performance: Zack Greinke – April17 @ Seattle Mariners
Zack Greinke was just amazing in this early season road start against the Mariners. Greinke came out and threw eight innings, giving up only four hits and had six strikeouts with 91 pitches.  What was impressive with this performance was the timing. The Astros came into this game having lost six straight games. This was during this disastrous April road trip where the COVID-19 IL claimed a handful of players and the remaining players were in a deep slump. Greinke stymied the Mariners and gave the Astros a much-needed victory when things were not going well.
Best Team Hitting Performance: Opening Weekend Series, April 1-4 @ Oakland A's
There was a ton of anticipation to this opening day series, and A's fans came out in droves to boo the Astros and assert their team as the best in the AL West. Boy, did that backfire.
More from Astros News
The Astros hit .320 during a four-game sweep in series where they generated a .962 OPS – AS A TEAM! Houston produced 47 hits in 36 innings that weekend, including 12 doubles, eight home runs and approximately 30,000 continual groans by the home crowd. Alex Bregman, Yordan Alvarez, Carlos Correa, and Jose Altuve all homered that weekend. Yuli Gurriel went 7-15 at the plate (.471) and Michael Brantley went 6-9 (.667 BA).
Kyle Tucker hit a massive bomb against Sean Manea that may still be floating in the orbit. Everyone was hitting the baseball at will. By the end of the weekend, Oakland was humbled and clearly wanted to part of this lineup.
Best Team Pitching Performance:  June 21 @ Baltimore Orioles
Houston came into Baltimore for a three-game set against the Orioles, and this dominating performance set the tone for what turned out to be a road sweep. It all started with Jake Odorizzi, who pitched five innings of no-hit baseball with nine strikeouts and only one walk in 86 pitches. Cristian Javier continued the trend, throwing two no-hit innings in the sixth and seventh and struck out All-Star Trey Mancini.
The Astros took a no-hitter into the eighth inning where, after a missed third strike call by Angel Hernandez, Brandon Bielak gave up a home run that ended the no-hitter bid. Brooks Raley came into the ninth and struck out both Ryan Mountcastle and DJ Stewart to close things out. The Astro staff struck out 15 Orioles and gave up only two hits and one walk. A dominant flex by the pitching staff.