Astros: Making the case to avoid big trade deadline deals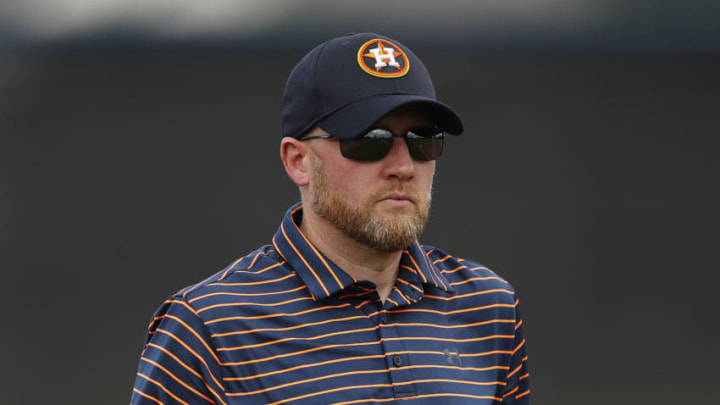 James Click (Photo by Michael Reaves/Getty Images) /
The Houston Astros should avoid making any big trade deadline deals this year.
It's hard to believe, but the trade deadline is fast approaching. The Houston Astros only play nine more games between now and the Aug. 31 deadline, and the fact that they've only played 26 games so far means the front office doesn't have as much of an opportunity to evaluate the team as in a normal season.
It's going to be a weird trade deadline for sure, as the combination of a shortened season and an expanded postseason means only a few teams are clearly out of the race at this point. The Pirates, Red Sox, Angels and Mariners are probably the only teams we can currently identify as obvious potential sellers. Just about everyone else could theoretically be a buyer.
That means a probable scarcity of available players and the possibility of greater competition among the numerous buyers. More bidders means higher prices. That's not to say it's a guarantee, of course, as some teams will likely stand pat. I believe the Astros should be one of them.
I'm not ignoring the fact that they've lost a ton of players to injury. Justin Verlander, Alex Bregman, Yordan Alvarez, Michael Brantley, Roberto Osuna, Aledmys Diaz, Jose Urquidy, Chris Devenski, Brad Peacock, Austin Pruitt and Josh James are all currently on the shelf, and some of the players who have been on the field haven't been performing to expectations. Still, in spite of that, I believe it's best to stay the course.
Not Much to Deal From
First of all, the Astros aren't going to be sellers, so let's stop that preposterous notion in its tracks. They have a firm grasp on second place in the AL West and aren't giving up, regardless of the fact that they have several key players reaching free agency this winter.
But as far as being buyers, they don't have a lot of trade bait. Their farm system is ranked 29th in the sport by Baseball America and 28th by MLB.com. Bleacher Report was more kind with a No. 18 ranking, but there's no getting past the fact that the organization doesn't have much top prospect depth from which to deal. The trade for Zack Greinke knocked a good chunk of that out, and further trades would leave them barren.
Their best potential trade chip, Forrest Whitley, is in the midst of another lost season as he deals with an injury, so the Astros would be selling low if they dealt him. Other young players like Abraham Toro, Jose Urquidy and Taylor Jones will likely be needed either this year or next, and there's no way they trade Kyle Tucker when their other three regular outfielders are all impending free agents. I just don't see anyone as obvious trade bait.
Need to See What They Have
I understand the desire to win, and I would love to see the Astros win this year's World Series as much as the next fan. But there's something to be said for letting this season play out and getting long looks at all the young players who've had to step up into bigger roles this year.
More from Climbing Tal's Hill
Brantley, George Springer, Josh Reddick and Yuli Gurriel are all set to reach free agency this winter, with Verlander, Zack Greinke, Carlos Correa and Lance McCullers Jr possibly following after 2021. There's the potential for a huge amount of roster turnover in the next 18 months, and there's simply no way for the Astros to re-sign everyone. Their budget is big, but it's not that big.
If Toro or Jones is capable of manning first base full time, that could impact the front office's desire to spend money to retain Gurriel. If Brandon Bielak, Framber Valdez and Cristian Javier continue to show their worth, the team won't need to retain all three of Verlander, Greinke and McCullers. If Blake Taylor, Andre Scrubb and Enoli Paredes are the real deal, there's less of a need to pay big money for relief pitching.
Letting this season play out will give GM James Click a good idea of what he needs to do to have this team ready to compete next season. They'll have some money to spend, and retaining Springer figures to be a priority. But there will be other needs as well, and it'll help if Click knows he can or can't rely on certain young players to fill those needs.
Still in Good Shape
The Astros are on a hot streak right now, so the team's problems are temporarily masked, but they're still there. We don't know what, if anything, we'll get from Verlander and Osuna this year. Alvarez is done, but hopefully Brantley and Bregman will return to health, and maybe Peacock, Pruitt and Urquidy will give the pitching staff a boost.
In other words, there are already reinforcements hopefully on the way, and that could be worth more than any trade could bring. There's still plenty of talent, and if some of the missing players are able to return and some of the rookies continue to step up, this team has as good a chance as any to make a deep playoff run.
For 2021, the Astros should have Alvarez back, and they'll still have Greinke and McCullers atop the rotation regardless of what happens with Verlander. Bregman, Altuve and Correa will still be in the heart of the lineup, and Click will be able to fill in the gaps this offseason. The desire to win this year is no cause for overpaying to make an unnecessary, impulsive blockbuster when you have little talent worth parting with.
Click has made a few small moves, such as acquiring Brooks Raley and Chase De Jong, and a couple more of those moves would be just fine. You're not giving up much and you might find a diamond in the rough. But it would be best if the Astros stayed away from making any big trades and save their ammo for later.