Astros will not rebuild regardless of 2020 season outcome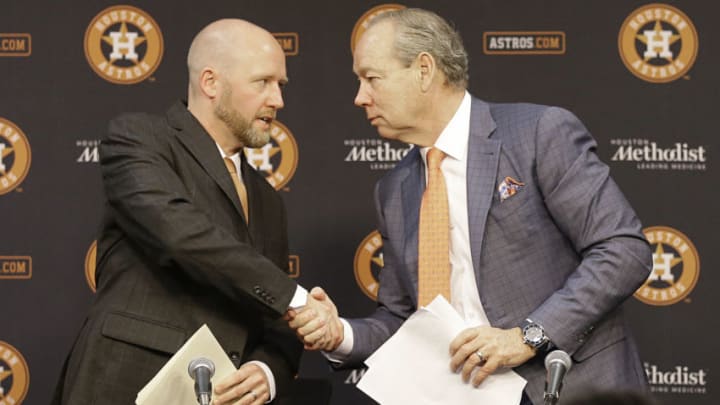 (Photo by Bob Levey/Getty Images) /
No matter how the next few months go, the Houston Astros are not going to rebuild again.
"If ever a team had reason to start over, it's this one," wrote The Athletic's Ken Rosenthal about the Houston Astros. He suggested that, after everything that's happened over the past year and with all the injuries that have piled up this season, new GM James Click could theoretically embark on a rebuild to give the franchise a fresh start.
In a sense, I can see why someone would entertain the thought. The team has very little in the way of quality, experienced pitching, with its top two starters both on the wrong side of 35 (and its ace, Justin Verlander, possibly needing Tommy John surgery). The farm system is not pretty, with Baseball America ranking it 29th among the 30 major league clubs, and top prospect Forrest Whitley is much less of a sure thing than he used to be.
Key hitters George Springer, Michael Brantley, Yuli Gurriel and Josh Reddick are all set to reach free agency after this season, with the possibility that Carlos Correa and Lance McCullers, Jr will follow after 2021. Of the established, veteran players, only Jose Altuve and Alex Bregman are under contract beyond next season, and Altuve hasn't quite been the same player he used to be.
So if they were to trade most of these guys and restock what's become a barren farm system, that could set them up for a new window of contention in a couple years. They're still in their current window, but it looks like it could be closing. So will Click, with his Tampa Bay Rays background, actually take Rosenthal's advice and tear it down?
In a Word, No
For one, I don't see owner Jim Crane wanting to go through another rebuild. The Astros were awful for a while, and in fact drew plenty of ire for that. Just ask ESPN's Buster Olney, who still hates on the franchise for the way it rebuilt earlier in the decade. Better to win and have people hate you for it than to lose and have people hate you for it.
And yes, the sign stealing scandal was a mess and it'll hover over the franchise for a long time. Trading the players who were involved in it won't change that, though. If there's one thing I've learned about the Astros haters, it's that their hatred isn't rational. They'll continue hating the uniform regardless of who's wearing it.
We know the franchise can't keep everyone around because it'll be too expensive, and there are plenty of holes to fill on the roster, specifically on the pitching side. They could be without Verlander and Roberto Osuna in 2021, which will make things more difficult if they intend to compete for a championship. But they can do it anyway.
Greinke may be getting older but he's still an excellent guy to have at the top of the rotation, and McCullers should be at full strength next year. Some of the rookies are coming along nicely, and Click can always find some pitching help in the offseason. There's plenty of room to put together a solid pitching staff even without Verlander. And who knows, maybe Whitley finally puts it together.
More from Climbing Tal's Hill
The offense will be fine, especially if the team can retain Springer. That would mean Brantley and Reddick would be gone, and possibly Gurriel as well. But a core of Springer, Altuve, Bregman, Correa and Yordan Alvarez is plenty good. Even if Correa leaves after next year, there's plenty of firepower left to carry this offense, especially if Kyle Tucker fulfills his potential.
Besides, the Astros will still be without their first and second round draft picks next season. There's no reason to give up on this season or the next one because it'll be harder to rebuild without those picks. The window of contention isn't closed, so don't give up on what is still a highly talented team.
Click may have come from the Rays, but he won't necessarily operate the way the Rays do because he has much more payroll space to work with. Look at how Andrew Friedman has done after moving over to the Dodgers — they've got a huge payroll, an insanely talented team and a deep farm system. From an objective standpoint, the man has worked wonders.
We don't yet know if Click is that good, but the point is that this isn't a small market team with little revenue. The Astros may not have pockets as deep as the Dodgers or Yankees, but they can field a good team. There's no point in blowing this roster up right now.
People outside Houston might love to see it, but it's not happening. The Astros have plenty of great players in their prime and can afford to keep most of them. Click will need to get creative and make some shrewd moves, of course, but this team isn't in need of a rebuild. It's in need of another championship.