Astros: Revisiting the 1985 MLB amateur draft hits, misses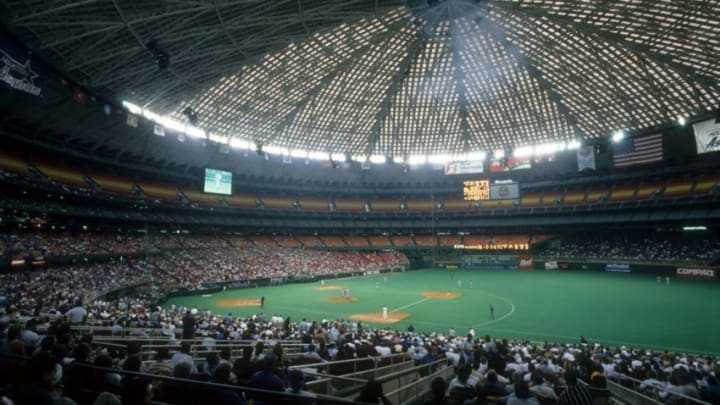 HOUSTON, TX - AUGUST 29: General interior view of the Houston AstroDome during a game between the Chicago Cubs and the Houston Astros in Houston, Texas. The Cubs won the game 4-3. (Photo by Matthew Stockman/Getty Images) /
We take a look back at the Houston Astros picks in the 1985 MLB amateur draft.
We recently examined how the Houston Astros draft class of 1986 was pretty weak, which is putting it mildly. Unfortunately their class in 1985 was much the same, as they failed to find any impact major league players.
Their first pick came at 12th overall, and there was plenty of talent already off the board. Hall of Famer Barry Larkin went fourth overall, while notable players B.J. Surhoff and Will Clark were the top two taken. It could be worse, though — the White Sox selection at fifth overall never made the majors, but the Pirates took some guy named Barry Bonds at No. 6. That career WAR total of 162.8 just blows my mind, regardless of whatever steroids he may have taken.
First Five Rounds
With their first round pick, the Astros took New Haven outfielder Cameron Drew. He appeared in seven major league games, all with Houston in 1988, totaling three hits in 16 at-bats. Players they missed here included Rafael Palmeiro, Randy Johnson, Gregg Jefferies and Brian McRae.
In the second round, the team selected high school shortstop Bert Hunter. He played a total of nine seasons in the minor leagues, topping out with 24 games at the Triple-A level. Players taken after this included Scott Servais, Lance Blankenship and Wally Whitehurst.
More from Climbing Tal's Hill
The Astros' third round pick was high school outfielder Mike Hensley, but they did not sign him. He would be drafted by the Cardinals in the second round in 1988 but pitched only three minor league seasons, never going beyond A-ball. Players they missed here included Tino Martinez, Bobby Thigpen and Steve Wilson.
With their fourth round selection, the team went with Indiana State left-hander Blaise Ilsley. He briefly reached the majors with the Cubs in 1994, making 10 relief appearances and posting a 7.80 ERA. Players going after this included David Justice, Mike Devereaux, Mike Macfarlane and Chad Kreuter.
In the fifth round, the Astros drafted high school catcher Troy Aleshire. He played just three seasons in the team's system, hitting only .200 with one home run. The only really notable player taken after this was Jeff Brantley. Players they missed later in the draft included John Smoltz, Mark Grace, Mike Stanley, Brady Anderson, Randy Velarde and Greg Harris.
Notable Later Picks
The most notable pick of their draft was their sixth round selection, high school first baseman Mike Simms. He played for the Astros in parts of six seasons and hit .219/.298/.388 with 15 home runs in 406 plate appearances. Deion Sanders and Todd Pratt were taken after this pick.
Their 26th round pick, LSU infielder Jeff Reboulet, did not sign. He wound up being drafted in the 10th round by the Twins in 1986 and had a 12-year big league career as a part-time and backup infielder.
A couple of other signees would briefly reach the majors, but that's it. This was another pretty weak class, which is part of why the Astros were not able to sustain their success in the late 1980s.