Astros: Revisiting the 1986 MLB amateur draft hits, misses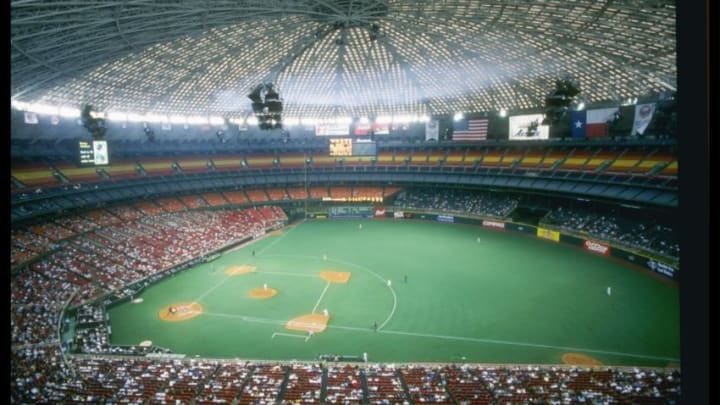 29 Aug 1996: General view of the Houston Astrodome during a game between the Chicago Cubs and the Houston Astros in Houston, Texas. The Cubs won the game 4-3. /
We take a look back at the Houston Astros picks in the 1986 MLB amateur draft.
The Houston Astros did pretty well for themselves in the 1987 and 1988 drafts, finding a group of future All-Stars and one future Hall of Famer. The same cannot be said for their 1986 draft, however, as they struck out all across the board.
The team's first pick came at No. 13 overall, and a bunch of top talent was already off the board. Kevin Brown, Gary Sheffield, Matt Williams, Greg Swindell and Jeff King were all off the board in the first six picks, leaving the Astros to take a chance on someone who didn't pan out.
First Five Rounds
With their first round pick, the Astros selected high school right-hander Ryan Bowen. He pitched in two seasons for the team, going 6-11 with a 7.01 ERA in 22 starts and three relief appearances. Players they missed here included Roberto Hernandez, Luis Alicea, Kevin Tapani and Erik Hanson.
In the second round, the team took high school left-hander Mike Hook. He pitched in seven minor league seasons but never advanced beyond Double-A. Players the team missed here included Todd Zeile, Dean Palmer and Dave Hansen.
More from Climbing Tal's Hill
With their third round pick, the Astros drafted high school outfielder Tuffy Rhodes. He played for the team in parts of four seasons, compiling a .219/.302/.303 line with two homers in 92 games. Players going after this included Scott Radinsky, Scott Cooper and Rudy Seanez.
The Astros took high school right-hander Fred Costello in the fourth round. He pitched 10 seasons in the minor leagues and made it up to Triple-A but never could crack the majors. Players taken after this included Bo Jackson, Kent Bottenfield and Joe Girardi.
In the fifth round, the team went with Arizona shortstop Dave Rohde. He played with the Astros for two seasons, compiling a .165/.264/.194 line in 88 games. Players they missed here included Pat Hentgen, Tom Goodwin and Rich DeLucia. Others taken later in this draft included Tom Gordon, Rod Beck, Darryl Hamilton, Rick Reed, Rey Sanchez, Chris Hoiles and Hal Morris. John Olerud, Steve Finley, Chuck Knoblauch and Tim Salmon were drafted but did not sign.
Notable Later Picks
There aren't really any notable picks from this Astros draft class. Their 12th round pick, infielder Trent Hubbard, played 10 seasons in the major leagues, though none were with Houston, and he totaled just 0.1 WAR for his career.
Their 34th round pick, outfielder Eric Anthony, played five seasons in Houston and hit .224/.295/.378 with 49 homers in 430 games. He played a total of nine years in the major leagues but compiled only -0.2 WAR.