Astros: Reviewing the 1971 Joe Morgan trade with Reds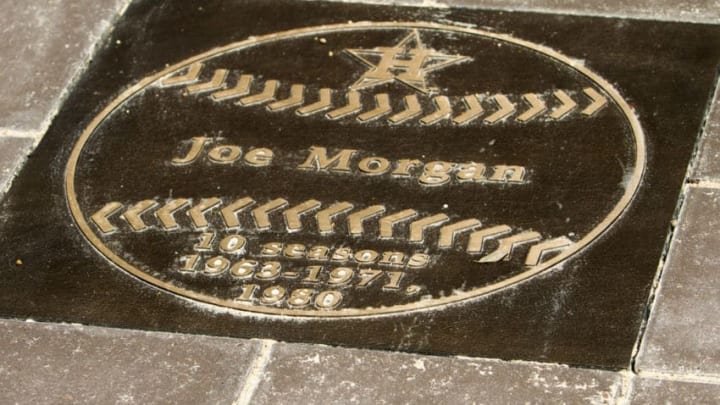 HOUSTON, TX - JUNE 22: Former Colt .45s/Astros All-Star second baseman Joe Morgan is inducted into the Astros Walk of Fame at Minute Maid Park on June 22, 2012 in Houston, Texas. Morgan played parts of his first nine Major League seasons with the Colt .45s (1963-64) and Astros (1965-71) in what would ultimately be a Hall of Fame career from 1963-84. (Photo by Bob Levey/Getty Images) /
HOUSTON, TX – JANUARY 31: Second baseman Joe Morgan #8 of the Houston Astros shows off his jersey after signing with the Astros on January 31, 1980 in Houston, Texas. (Photo by B Bennett/Getty Images) /
The Final Verdict
This one isn't difficult to judge. The Reds came away with a total of 77.0 WAR from the five players they received, most of which of course came from Morgan. The Astros, meanwhile, got 9.7 WAR from the three players they got back. Pretty lopsided.
More from Climbing Tal's Hill
That's not to say they didn't get any value. May and Helms were solid players, particularly May. And the Astros did get Cabell a few years later, who would provide another 9.4 WAR in eight seasons in Houston. So it's not as if the trade was a total loss.
Still, no one's going to argue the trade was worth it. Morgan immediately turned into a bona fide star with the Reds and launched himself toward the Hall of Fame. Who knows if the Astros would've won anything if they'd kept Morgan, but it's no coincidence that the Reds won three NL pennants and two World Series during his time there.
Morgan would return to the Astros for one season in 1980, which was incidentally the first time the club would make the playoffs. But by then, he was 36 and had his best years behind him. It's fair to wonder what might have been if his prime had been spent in Houston instead of Cincinnati, and it was largely thanks to a manager who'd be gone shortly after Morgan left.