Astros: Reviewing the 1971 Joe Morgan trade with Reds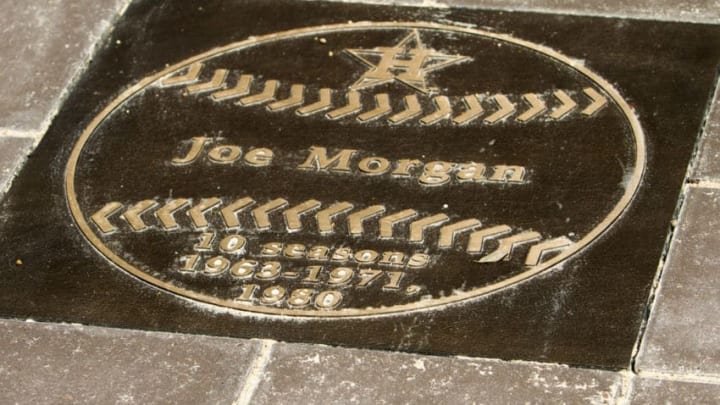 HOUSTON, TX - JUNE 22: Former Colt .45s/Astros All-Star second baseman Joe Morgan is inducted into the Astros Walk of Fame at Minute Maid Park on June 22, 2012 in Houston, Texas. Morgan played parts of his first nine Major League seasons with the Colt .45s (1963-64) and Astros (1965-71) in what would ultimately be a Hall of Fame career from 1963-84. (Photo by Bob Levey/Getty Images) /
CIRCA 1973: Joe Morgan #8 of the Cincinnati Reds at bat during a game from the 1973 season. Joe Morgan played for 22 years with 5 different teams, was a 10-time All-Star, 2-time National League MVP(1975, 1976) and was inducted to the Baseball Hall of Fame in 1990.. (Photo by: 1973 SPX/Diamond Images via Getty Images) /
What the Astros Gave Up
We all know what happened with Morgan. He had been worth 27.0 WAR in his first nine seasons with the Astros, displaying a penchant for drawing walks at a much higher rate than he struck out. His batting average and slugging numbers weren't anything special, but he walked so much that he always had good on-base percentages.
He took things to another level in Cincinnati, though. Following the trade, he went on a run of five straight seasons with at least 8.6 WAR, including a ridiculous 11.0 WAR in 1975, the first of his two straight MVP campaigns. He was an All-Star in all eight of his seasons with the Reds.
He hit .288/.415/.470 with the Reds, drawing 881 walks while striking out just 410 times. He also totaled 220 doubles, 152 homers and 406 stolen bases in Cincy. Altogether, he gave the Reds a total of 57.9 WAR in those eight seasons, which is more than some Hall of Famers have for their entire careers.
Billingham spent three seasons with the Astros and became a full-time member of the rotation in 1971. In total, he was 29-32 with a 3.75 ERA in 61 starts and 70 relief appearances, compiling 2.9 WAR. He hit his peak with the Reds, making the All-Star team in 1973 by going 19-10 with a 3.04 ERA, leading the league in starts (40), shutouts (7), and innings pitched (293.1). Altogether, he pitched to a 3.85 ERA in six seasons with the Reds, totaling 1.9 WAR.
Menke was coming off two straight All-Star selections as the Astros shortstop, including hitting .304/.392/.441 in 1971. He gave the Astros 9.1 WAR in four seasons before giving the Reds 4.1 WAR in two seasons. He hit a combined .218/.340/.318 while primarily playing third base in Cincinnati.
Geronimo was a center fielder, which the Astros didn't need thanks to the presence of Cesar Cedeno. He won four Gold Gloves in nine seasons with the Reds, totaling a .261/.330/.371 line and 13.2 WAR. He'd provided the Astros with -1.1 WAR in three seasons prior to the trade.
Armbrister had yet to reach the majors at the time of the trade, but played for the Reds in parts of five seasons. Mostly a pinch hitter, he compiled a .245/.307/.377 line with four homers and 19 RBIs in 302 plate appearances, totaling -0.1 WAR.