Explaining my 2020 FanSided Mock Hall of Fame ballot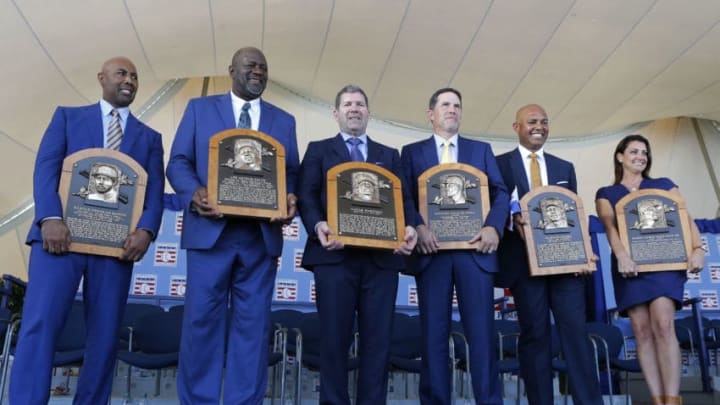 COOPERSTOWN, NEW YORK - JULY 21: Inductees (from left) Harold Baines, Lee Smith, Edgar Martinez, Mike Mussina, Mariano Rivera and Brandy Halladay, wife the late Roy Halladay, pose with their plaques during the Baseball Hall of Fame induction ceremony at Clark Sports Center on July 21, 2019 in Cooperstown, New York. (Photo by Jim McIsaac/Getty Images) /
ST PETERSBURG, FL – July 2: Designated hitter Manny Ramirez #24 of the Boston Red Sox smiles after ducking from an inside pitch against the Tampa Bay Rays July 2, 2008 at Tropicana Field in St. Petersburg, Florida. (Photo by Al Messerschmidt/Getty Images) /
The Ones Who Just Missed
Sosa is one of those players I probably would have voted for if not for the 10-player limit. I left him off simply because I felt the other players were more deserving. For one, Sosa's WAR of 58.6 fell a little shy of the others.
His 609 home runs are impressive, but that's basically all he was. He didn't hit for a high average or play elite defense, nor was he an elite baserunner. His entire case is built on the long ball. He's a one-trick pony.
You can make the steroid argument against him, but the bottom line is you can't tell the story of baseball in his era without including him. He's deserving, just maybe not quite as much as the others.
Kent was definitely a solid player, though his 55.4 career WAR leaves him a little short of the other candidates. His case mainly rests on the fact that he was one of the most impactful hitters at his position, as second base isn't traditionally known for its offense.
He wasn't flashy, but he made five All-Star teams and even won an MVP award. He didn't provide a great deal of value defensively, but his bat was certainly noteworthy. Without the 10-player limit, I would have a difficult time deciding whether to include him. But with the limit in place, it's not a decision I had to make.
Manny was one of the most feared hitters of his generation, and his offensive numbers all scream Hall of Fame. 555 homers, .312 average, .996 OPS, 574 doubles, 1,831 RBIs, and a career 154 OPS+ all make him worthy. So why the omission?
Without the 10-player limit, he would've been on my ballot. But I had to split some hairs because of that, and the fact that he was issued not one but two suspensions for failed drug tests is what keeps him off. I realize I'm letting other steroid users in, but they never got suspended for it. Maybe it's a silly distinction, but when you're only allowed 10 picks, you have to make some of those.
This is another case I would've had to spend some time on if there were no 10-player limit. His 60 WAR is right on the threshold for me. His 574 doubles, 400 stolen bases and 288 homers are an impressive combo.
The argument against him is essentially that he was a good but unspectacular player. There's some truth to that, but he had a combination of power and speed that was better than just good. His case deserves further examination for sure.
There are a couple of numbers that work in Pettitte's favor. His 60.2 WAR is good, as are his career 256 wins and his 19 wins in the postseason. But I believe he belongs in the Hall of Very Good as opposed to the Hall of Fame.
His career ERA of 3.85 and WHIP of 1.351 are not particularly impressive. He did play most of his career in the loaded AL East, but even then, those numbers aren't spectacular. He was reliable and consistent, but I simply don't see him as a Hall of Famer.