Explaining my 2020 FanSided Mock Hall of Fame ballot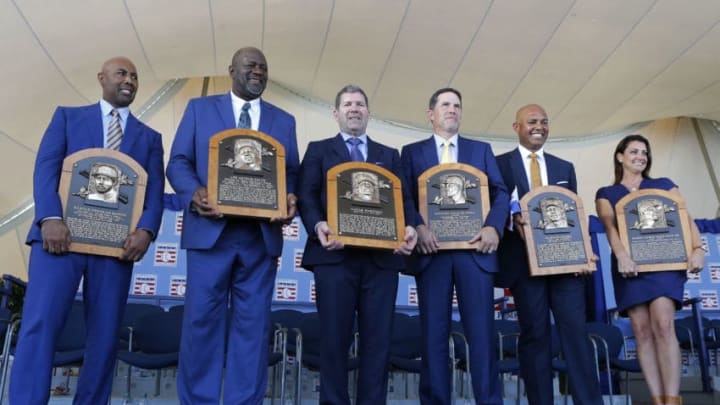 COOPERSTOWN, NEW YORK - JULY 21: Inductees (from left) Harold Baines, Lee Smith, Edgar Martinez, Mike Mussina, Mariano Rivera and Brandy Halladay, wife the late Roy Halladay, pose with their plaques during the Baseball Hall of Fame induction ceremony at Clark Sports Center on July 21, 2019 in Cooperstown, New York. (Photo by Jim McIsaac/Getty Images) /
7 Mar 2002: Omar Vizquel #13 of the Cleveland Indians fields the ball against the Atlanta Braves during the spring training game at the Wide World of Sports Complex in Lake Buena Vista, Florida. DIGITAL IMAGE. Mandatory Credit: Andy Lyons/Getty Images /
Vizquel is getting some healthy support, but I simply do not think he belongs in the Hall of Fame. Yes, he was an elite defender who won 11 Gold Gloves and made three All-Star teams, but he was well below average offensively.
His career OPS+ of 82 indicates he was 18 percent below league average. He had only two seasons in which he was league average or better, and for a pure contact hitter, the fact that he had only one season hitting .300 or better is not very good. By contrast, other elite defenders like Jones and Rolen were well above-average hitters as well.
Proponents will point to his 2,877 career hits, but that's a product of playing for so long. His career line of .272/.336/.352 leaves much to be desired. His 404 stolen bases are nice, but that's the only good offensive stat he has; everything else suggests he was simply not a good hitter.
Ozzie Smith got into the Hall on the strength of his defense, but there's a difference. Smith's defense was THAT good, and yes, it was that much better than Vizquel's. Smith finished with 44.2 defensive WAR compared to Vizquel's 29.5, and his Total Zone Runs was 239, well ahead of Vizquel's 130.
Smith's career OPS+ is 87, so he was slightly better than Vizquel offensively and much better defensively. And here's the nail in the coffin: Smith's career WAR is 76.9, while Vizquel's is 45.6. This puts Vizquel below the other candidates on this list. He was a good player, but not a Hall of Fame player.