Explaining my 2020 FanSided Mock Hall of Fame ballot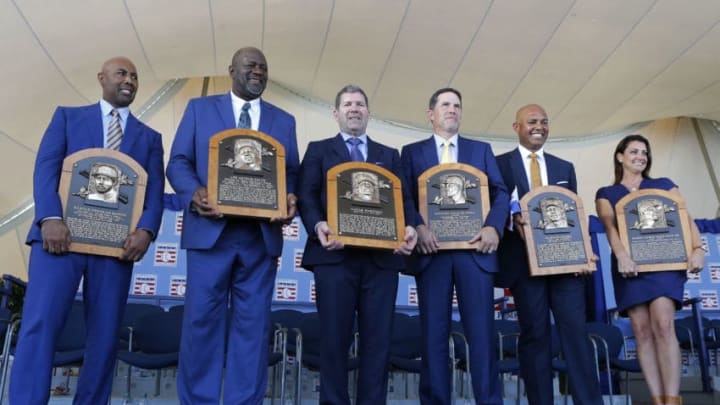 COOPERSTOWN, NEW YORK - JULY 21: Inductees (from left) Harold Baines, Lee Smith, Edgar Martinez, Mike Mussina, Mariano Rivera and Brandy Halladay, wife the late Roy Halladay, pose with their plaques during the Baseball Hall of Fame induction ceremony at Clark Sports Center on July 21, 2019 in Cooperstown, New York. (Photo by Jim McIsaac/Getty Images) /
14 Jun 1998: A portrait of Larry Walker #33 of the Colorado Rockies during a game against the Los Angeles Dodgers at the Dodger Stadium in Los Angeles, California. The Rockies defeated the Dodgers 3-2. /
The Borderline Picks
Andruw Jones
Jones was undoubtedly one of the best defensive center fielders to ever play, winning 10 straight Gold Glove Awards. He was also a force with the bat, belting 434 home runs, including seven seasons of 30 or more, peaking with a league-leading 51 in 2005.
What hurts him is mainly the fact that he was not an effective player in his 30s. He eventually settled for a part-time role and was done at age 35. But for a decade, he was the game's best center fielder and a true middle-of-the-order bat, which has to count for something.
He amassed 62.8 career WAR, ahead of guys like Jackie Robinson and Vladimir Guerrero. He's also second all-time in Total Zone Runs, and first among outfielders. This, combined with the fact that he was a strong hitter in his prime, should be enough to get him in.
Scott Rolen
Like Jones, Rolen was a defensive standout who also was strong offensively. He won eight Gold Gloves at third base, made seven All-Star games and took home a Rookie of the Year award. He finished with 517 doubles, 316 homers and 1,287 RBIs in 17 seasons.
His counting stats took a hit thanks to several seasons being shortened due to injuries. Despite that, he's 24th all-time in Total Zone Runs and sixth among third baseman. His 70.2 WAR puts him ahead of Carlos Beltran, Tony Gwynn and Ivan Rodriguez. The underrated Rolen deserves this.
Gary Sheffield
Sheff was one of the best all-around hitters of his era, hitting for average and power and showing incredible discipline. For his career, he amassed more than 300 more walks than strikeouts, making him one of the toughest outs a pitcher ever faced.
His other stats are pretty good, too. He finished with a .292/.393/.514 line with 509 homers, 467 doubles and 1,676 RBIs. He made nine All-Star teams and won five Silver Sluggers and finished in the top 10 of the MVP voting six times.
His 60.5 WAR is ahead of Harmon Killebrew, Yogi Berra and Mike Piazza, and his 80.8 offensive WAR is more than Frank Thomas, Carl Yastrzemski and Jim Thome. He belongs in the Hall with the best hitters of his day.
Larry Walker
This is Walker's final year on the ballot, and the vote is expected to be close. But he's one of the best all-around players of his era, winning seven Gold Gloves and one MVP award. His 72.7 WAR is ahead of Jeter.
Yes, his numbers might have been helped by Coors Field in the late 1990s and early 2000s, and his counting stats might have been better if not for some injuries. But the man was an absolute stud both at the plate and in the field. He deserves to be in.
Todd Helton
Helton was my last pick, and it wasn't easy. He might have been helped by Coors Field as well, and the second half of his career wasn't very memorable aside from appearing in the World Series. But there are some numbers that helped sway me.
He walked more than he struck out over the course of his career, and he also won three Gold Gloves. His 592 doubles are 19th all-time, his career OPS of .953 is 18th all-time, and his .414 on-base percentage is 27th. He's in the top 40 in slugging, walks, runs created, extra-base hits and win probability added.
He's second all-time in total zone runs among first basemen and eighth in fielding percentage. Some of his 369 homers might have been Coors-aided, but there's no denying he was a great pure hitter and one of the best all-around first basemen to ever play.