Astros inform Alan Ashby that he will not return in 2017.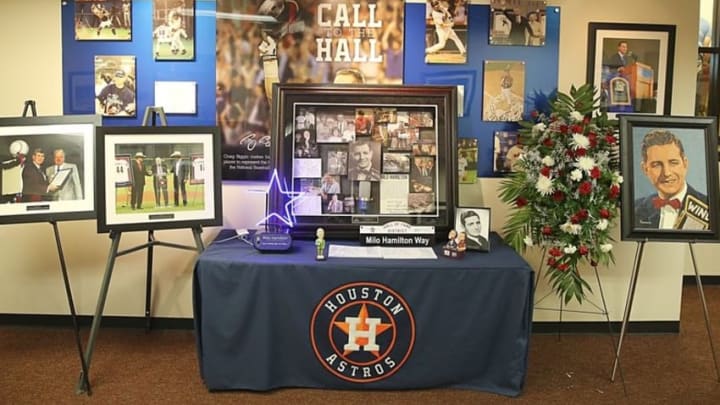 Sep 19, 2015; Houston, TX, USA; A shrine for Hall of Fame announcer Milo Hamilton, who passed away earlier this week is seen outside the press box before the Houston Astros played the Oakland Athletics at Minute Maid Park. Mandatory Credit: Thomas B. Shea-USA TODAY Sports /
Ashby After Dark will no longer be heard during Astros TV broadcasts.
The Houston Astros are currently doing an extreme makeover of the center field area of Minute Maid Park. This move was to give the fans a better experience at the ballpark come Opening Day 2017. As Mike Acosta told me, it will feel like a brand new ballpark. While MMP is one of the better ballparks in the game, a change was needed with Tal's Hill.
When Opening Day rolls around, Bill Brown will not be a regular broadcaster anymore for the first time in 40 years. He told me at an STH party in October that he will still do games from time to time to give the broadcast team a break. While we will still see Brown on Astros broadcast in 2017, his longtime partner Alan Ashby, will not be part of it.
According to David Barron, Reid Ryan informed Ashby two weeks ago that they were not renewing his contract for the 2017 season. The reason given was that the team was trying to revamp the TV team following Brown's retirement. This is not the first time the Astros have not renewed Ashby's contract. They did so after the 2005 season.
What are the plans for Blum?
More from Climbing Tal's Hill
Many fans like myself assumed that Geoff Blum and Ashby would be the TV broadcasters in 2017. Blum's status is still up in the air as well. Some would say that Ashby nor Blum are capable of being the play by play guy for an extended period. Ashby did handle a majority of the play by play duties on the road this season. He served as the color commentator for the rest of the games.
Ashby played for the Astros 11 years out of his 17 in the big leagues and had been in the booth for 11 years in Houston. There are many fans out there who were fans of Ashby. However, there is a large segment of the fan base who didn't like him. Some thought that his honesty during the broadcast was refreshing.
Ashby after dark.
One thing that will be absent this season will be #AshbyAfterDark. Many times late in games, Ashby would say something that wasn't meant to be suggestive, but Astros Twitter would run with it. It became something that people listened to during the broadcast. Former CTH Editor Greg Thurston refers to it as "Intriguing musings of a suggestive nature."
Ryan said that Astros would go to a traditional two-man team, without one of the broadcasters serving double duty as Ashby did. Brown did mostly home games, and Blum joined Ashby on the road. This created an ever-changing dynamic in the booth. Via Barron, Ryan said, "we are committed to finding high-caliber talent who can provide us with the best broadcasts we can put out there."
We have no idea if Blum is still in the plans for 2017, but Steve Sparks and Robert Ford are locked into the Radio booth. The Astros will probably go outside the organization to find announcers, but a former player I would love to see is Lance Berman. He is currently coaching, but his humor and personality would be welcomed.
Next: Jose Altuve, the Sporting News Player of the Year
As for Ashby, he is currently 65 and doesn't know what his future holds. Ashby made it clear that he wanted to return and would still do so. No matter what happens, we thank Ashby for his time calling Astros games behind the plate and in the booth. Being a TV announcer is my dream job, so give props to him for being one of the few people to achieve that dream. Good luck Ash and thanks.
***Most of the information comes from David Barron.***