Ranking Houston Astros' most favorable playoff matchups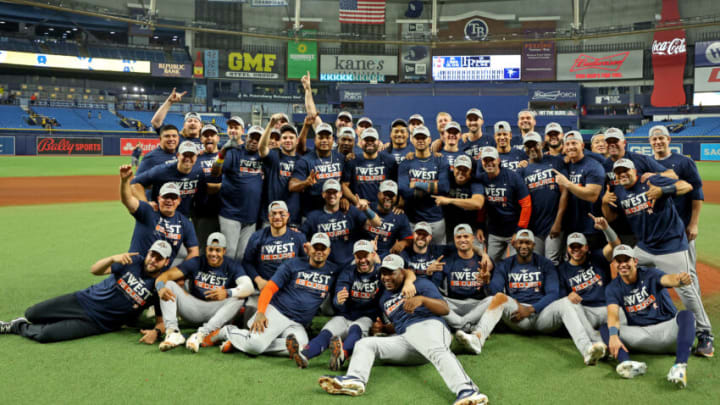 ST PETERSBURG, FLORIDA - SEPTEMBER 19: The Houston Astros celebrates winning the American League West Division following a game against the Tampa Bay Rays at Tropicana Field on September 19, 2022 in St Petersburg, Florida. (Photo by Mike Ehrmann/Getty Images) /
SEATTLE, WASHINGTON – OCTOBER 01: Carlos Santana #41 Luis Castillo #21 of the Seattle Mariners celebrate during the sixth inning against the Oakland Athletics at T-Mobile Park on October 01, 2022 in Seattle, Washington. (Photo by Steph Chambers/Getty Images) /
Astros best playoff matchup No. 2 — Seattle Mariners
Record vs. Seattle Mariners 2022 Regular Season: 12-7. Outscored opponent 73-65 in 19 games.
The Astros went 12-7 against the Seattle Mariners going 7-1 against them in the final eight games they went head to head including a three game sweep in Seattle. They beat up on last year's Cy Young winner Robbie Ray twice, never letting him get past the third inning in either start.
The unknown factor will be how the Astros handle Luis Castillo who will be the Mariners game one starter. He has had an up and down tenure with the team so far but overall he's been consistently good posting seven quality starts out of 11.
But even should the Astros lose game one against Castillo they still have Framber Valdez vs Robbie Ray who Houston has had tremendous success against.
And once again the advantage the Astros hold over the Mariners is the fact that Seattle's offense is just as bad as Tampa Bay's. Meaning the Astros may need only two runs to win any given game against Seattle given their dominant pitching and the offensive deficiencies of the Mariners.
The reason Seattle is higher on this list of teams to fear is simply because they hit more home runs than Tampa which when it comes to pitcher's duels if you can hit it out of the park on any given plate appearance with a runner on base that could be the difference maker when runs are hard to come by.
If a team is more prone to making a pitcher pay for a mistake, and it only takes one, the Mariners have a team more adept at leaving the yard than the Rays do. The Mariners are fifth in the American League in home runs. The Rays are second to last only ahead of the Cleveland Guardians.
Speaking of whom.