Astros could have their own Field of Dreams inspired game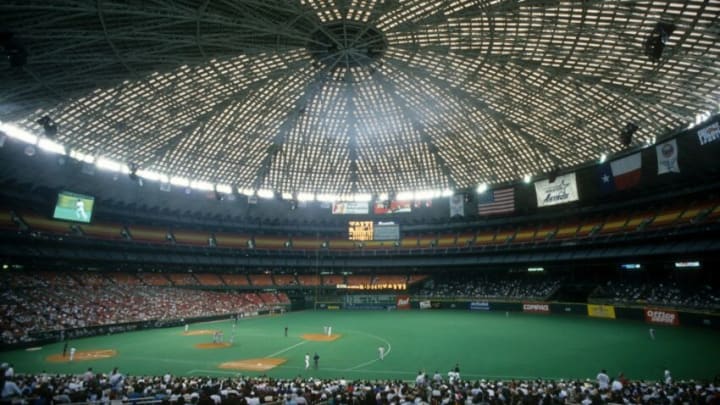 (Photo by Matthew Stockman/Getty Images) /
While the Houston Astros don't have the rich tradition rooted in the early 1900s like certain major-league franchises, they could still have their own movie-like game in the near future. The "Field of Dreams" Game was a huge success, as it brought millions of eyes to the heart of Iowa.
For the Astros, there isn't a set in stone rivalry that stretches decades or ties to a historic film, as the team has switched leagues and divisions. Right now, the Los Angeles Dodgers and New York Yankees would bring the most eyes and ears to Houston, as the movie might not be what you expect.
The Astros' might not have the tradition, but they have an easy route to a movie inspired game.
In the late 1970s, the Bad News Bears film series grew with the release of Bad News Bears in Breaking Training. While not remembered as much as the original or the mid-2000s remake, this film holds a piece of major-league history, as the Bad News Bears played in the Astrodome.
While not on the same level of Field of Dreams, the Astros could still make a great marketing move with a "Bad News Bears" night. The fictional team wasn't the most liked while doubted which can relate to how opposing fans think of the current players and team.
In regards to where they play, Minute Maid Park would have to be the location, as the Astrodome isn't playable or even safe for fans to enter. If in some crazy fashion they unload the bank in remodeling it for one event, then it might as well be used for other occasions. But without a desired future of the "Eighth Wonder of the World," the Astros should just stay at home, while the Dome has been touched in years.
More from Climbing Tal's Hill
For uniforms, the Astros should sport the "Tequila Sunrise" jerseys as they take on the Dodgers, who are currently a rival now and back in the NL West days.
If they want to incorporate the uniforms from the movie, the Astros would be the Bears and the Dodgers would be the Houston Toros, which is contradicting in different fashions as the Bears are from southern California.
As Bob Watson was the main star from Houston in the film, it would also bring forth a night to honor the late legend. If the organization wants to make it even more realistic, they could fund a Little League game that could regional play in route to the World Series before the major-league contest.