Astros: fans greet the A's with boos except for Tony Kemp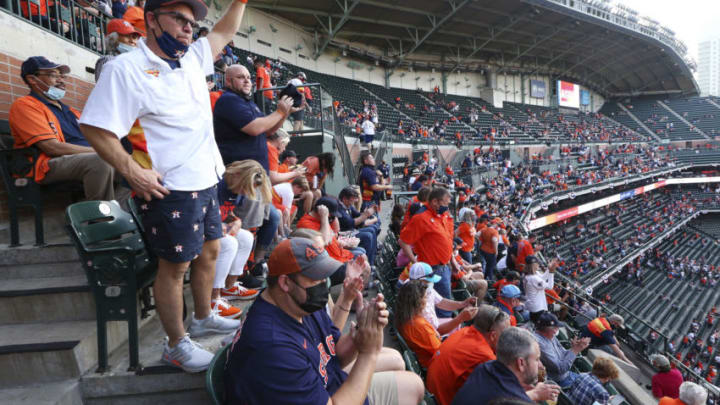 Apr 8, 2021; Houston, Texas, USA; Fans cheer from the stands as the Houston Astros are introduced before the game against the Oakland Athletics at Minute Maid Park. Mandatory Credit: Thomas Shea-USA TODAY Sports /
Astros' fans poke their own fun at opposing teams in first home game.
While Houston Astros' fans entered Minute Maid Park for the first time since the 2019 World Series, they got to see their team demolish the Oakland A's once again. From the batter's box to the pitcher's mound, Houston is making another statement in 2021. The first home stand did bring a fun atmosphere along with powerful hitting.
The team has been booed at every game thus far, but the first game back at Minute Maid Park had a slight twist. Fans continued their booing, but this time it was to the A's, who finished fifth in the AL West in 2017. This doesn't matter in the end; it was a fun joke from fans that brought them a slight redemption, as other fan bases continue to whine their way through the season.
More from Climbing Tal's Hill
Former Astros' utility man Tony Kemp was the only player not greeted to boos, which is good to see from fans. Sometimes we soon forget the supporting cast, but as a former fan favorite, it made the most sense that he wasn't booed; even when he was traded away and didn't leave. Though, it didn't sound like the team cheered for two-time Astro Jed Lowrie.
As Mike Fiers continues to hide from playing the Astros as well, fans have taken notice and were calling for him last night. Although dealing with his own respected injury, the right-hander hid from Houston in the 2020 regular season and postseason.
This is the best atmosphere for a team and fanbase that was ridiculed, as opposing fans and players don't seem to care that the sign stealing scheme didn't help in the end. The boos will continue, but it shows you how much it doesn't mean anything, if Astros' fans are embracing it themselves as well.
As the team continues to rake at the plate, Houston fans finally have the chance to see this offensive powerhouse in person. The team is currently leading MLB in home runs and sees no sign of stopping.