Astros: Crane, Click silence critics with Odorizzi signing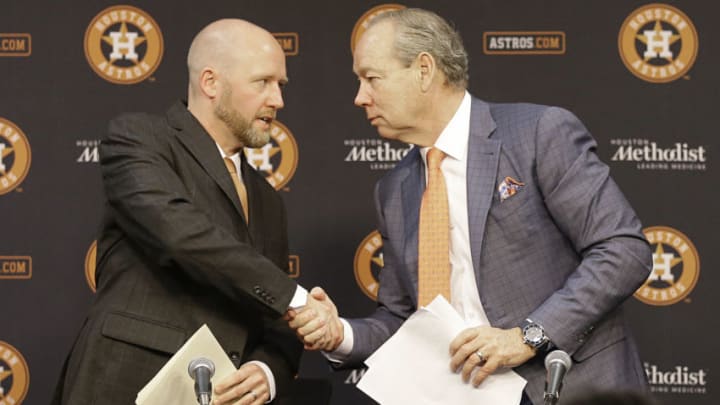 (Photo by Bob Levey/Getty Images) /
Houston fans are more than accustomed to their pleas falling on deaf ears, most notably with the Texans as of late. But the same has been true with the Astros at times over the years, and even in this recent era of success and prosperity, the team has occasionally seemed reluctant to spend money. But owner Jim Crane and GM James Click have silenced the doubters with their signing of pitcher Jake Odorizzi.
With the Houston Astros signing of Jake Odorizzi, Jim Crane and James Click silenced their critics for the time being.
The criticism isn't entirely fair, and it all started in the later years of the Drayton McLane era. Crane finally took over and while the payroll was initially low, we knew better days were coming. Eventually they did, and the payroll climbed as a result. But in spite of all that, the team has still shied away from signing top free agents, with Josh Reddick's $52 million deal still the biggest one in the Crane era.
The Astros have, however, been willing to take on salary in trades, most notably in the acquisitions of Justin Verlander, Zack Greinke, Brian McCann and Gerrit Cole. They've spent some money to extend players like Verlander, Jose Altuve and Alex Bregman. They also exceeded the luxury tax threshold in 2020, so they have certainly been willing to have a high payroll.
But they've let the likes of Cole, Dallas Keuchel, George Springer and Charlie Morton leave in free agency, and impending free agents Carlos Correa and Lance McCullers are still without extensions. For those fans who want to complain, there's all the ammunition needed. But this Odorizzi signing ought to silence those complaints, at least for the time being.
Smart Spending
I'll admit I was critical of Click, particularly earlier this offseason prior to the re-signing of Michael Brantley. We knew Jeff Luhnow could swing a big deal when needed, but we hadn't seen anything from Click, and it seemed like he was letting Springer and Brantley leave without putting up a fight. Then he got Uncle Mike to reverse course, which kept everyone relatively happy.
The injury situation this spring had fans worried, with Framber Valdez looking likely to miss significant time with a fractured finger and top prospect Forrest Whitley again having a setback, that could lead to Tommy John Surgery. Depth is going to be even more important this season with pitchers' workloads being much higher than last year, and the Astros have very little proven starting pitching depth. Hence the need for Odorizzi.
The team's interest in Odorizzi was reported on Friday, and the news of his signing broke the next day, so it seems like Click moved quickly. We don't know exactly how much money is in the deal, but we do know it's a two-year deal with a player option for 2023. With incentives and the option buyout, he could make up to $30 million over two years.
More from Climbing Tal's Hill
I'm going to assume Crane and Click have found a way to structure the contract to keep them under the luxury tax barrier, which is paramount given they'd lose draft picks if they went over for the second year in a row. But they should be right up against it, which again shows they have no problem spending money, but they won't spend in a way that isn't smart.
They didn't re-sign Cole, which makes sense given the enormous contract he got from the Yankees. Retaining Springer would have put them over the luxury tax or forced them to shed payroll in order to stay under it. Like it or not, teams have plenty of incentive to stay under what has in many ways become a salary cap.
The Astros haven't played in the top of the free agent market, but those contracts become albatrosses more often than not. It makes sense to avoid those types of deals, especially with players on the wrong side of 30. Even still, they've had a top-10 payroll in MLB for the past few seasons, so it's hard to argue they don't spend. They just spend wisely.
The Odorizzi deal is another one of those. They fill what has turned out to be a drastic need without breaking the bank, and by adding him along with Brantley and some bullpen arms, they've shown their desire to field a championship team in 2021. You can't always please every fan, but Crane and Click are clearly trying to win. They just aren't spending like drunken sailors to do it.