Brent Strom: Ryan Pressly is "the leader" to be the closer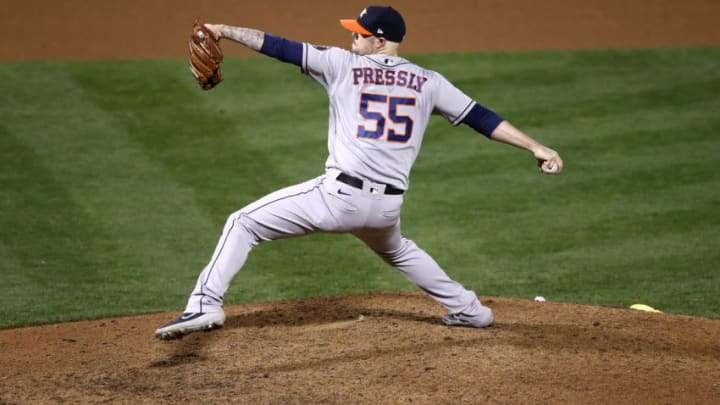 (Photo by Ezra Shaw/Getty Images) /
On Saturday, Pitching Coach Brent Strom was among the Houston Astros staff to appear in a Zoom conference with reporters. The eyes have been on the bullpen this winter, as most of 2020 consisted of young, rookie arms making their debut. Although not having a true closer on staff, Strom says Ryan Pressly is "the leader" to take the closing role.
The former Astros pitcher did mention that he is leaving the decision in Manager Dusty Baker's hands, as there are other options within the Astros 40-man roster and among the non-roster invites. The other pitchers up for evaluation are Steve Cishek, Pedro Baez and Joe Smith. Also, left-handers were mentioned as possible runners for the job; that includes Blake Taylor and Brooks Raley. Houston could also go the route of closer by committee and rely on multiple arms late into ball games with the options they have.
The Astros are nearing Opening Day, and Ryan Pressly looks to be the closer.
The Astros acquired Pressly in 2018 from the Minnesota Twins for bullpen help after trying for back-to-back World Series appearances. At the time, the right-hander was a dominant setup man for a team that was in contention of a postseason appearance. Looking back on that trade, Houston looked to have made a big steal after only giving up two prospects.
After Osuna fell to injury at the beginning of the season, the closing role fell on Pressly's shoulders without any warning. While only having six career saves before 2020, the right-hander was always seen in the eighth inning or getting the Astros out of jams. Before the '20 season, the Astros did use him in the ninth inning as he acquired three saves. This has been a reoccurring thing among many teams, as you can't gas your closer for six plus innings a week.
More from Climbing Tal's Hill
Pressly looked to have a slight regression in 2020, but that comes with a change in pitching style. The closing role comes with weight and requires a strong mind to compete in such a high-stressed situation that we can understand that his numbers look a little deflated. This also comes with the season being only 60 games, and the numbers mirroring only 23 appearances.
The Astros right-hander will look to compete in the bullpen this spring, but as he knows his role going into the year, we can expect the dominance to resurge. Strom mentioned that it will take a lot of arms to get through the 2020 season, and ass pitcher like Gerrit Cole, Justin Verlander or Dallas Keuchal aren't on staff, they will rely on a "village" to compete.
Strom also touched on the great progression of heath that Josh James has had, while also pointing to Austin Pruitt's success in rehab for his right elbow injury. Andre Scrubb is another reliever that he has high hopes for, as he sees him as a steal from the Los Angeles Dodgers.
The Astros pitching depth could also rely on the arms of Luis Garcia and Bryan Abreu, who has been praised for being in great shape while entering camp.  While we have always given award to Strom's coaching ability, he does say that a lot of it falls on the analytical team and the system that General Manager James Click has put in place.