Astros: Free Agent pitchers available for Spring Training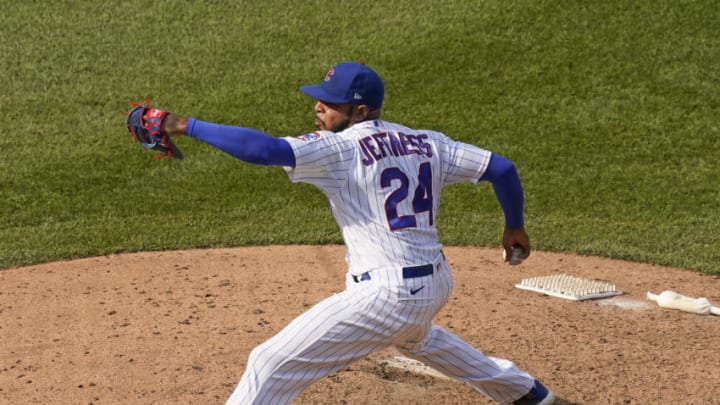 CHICAGO, ILLINOIS - AUGUST 23: Jeremy Jeffress #24 of the Chicago Cubs throws a pitch during the ninth inning of a game against the Chicago White Sox at Wrigley Field on August 23, 2020 in Chicago, Illinois. (Photo by Nuccio DiNuzzo/Getty Images) /
The Houston Astros have signed two arms to their bullpen this offseason. The two being Pedro Baez and Ryne Stanek, who have shown great lengths as relief pitchers in their careers, but the need for rotational depth and a possible closer have not be named. There are names such as Collin McHugh, Brad Peacock, and Trevor Rosenthal (linked to Astros) that would meet one of these needs on the Astros staff, but there are others that have also not been linked to Houston on the market.
This is a list of four pitchers that are currently free agents that could be possible signing targets for the Astros come Spring Training. There is a large group of players who have not been signed this offseason, and while the 40-man roster is currently full, the Astros will be allowed to move Justin Verlander and Josh James to the 60-day injured list at the beginning of Spring Training. This will free open two spots for guaranteed roster signings or just help maneuver players in and out after evaluating at Spring Training.
Newly signed outfielder Steven Souza could take one of the spots soon, as he was signed to a minor league deal in late January. The former Chicago Cub would be a reliable 4th outfielder when needed, but as much as you can hope that young arms will do the trick, the Astros should try working out a veteran arm to add to their roster. These pitchers listed have not been reported to be connected to the Astros, but three of them headline the remaining relief pitcher free agency.
With Spring Training nearing, the Astros have the ability to work out veteran arms.
Jeremy Jeffress, right-hander
The former Chicago Cub was a set up man for Craig Kimbrel, but when Kimbrel regressed, Jeremy Jeffress took the role and excelled. Through 23.1 innings in 22 games, the right-hander posted an ERA of 1.54 and a WHIP below 1.000, but his strikeout rate dropped as well. The '20 season was one of a small sample size as mentioned hundreds of times, and the possibility of this season being a fluke is in the air. Jeffress is two seasons removed from an All-Star appearance that consisted of innings in the closing role and as a set up man. Jeffress comes with four pitches , but consistency has been his issue in years past. If the Astros were to sign the 33-year-old, they would be getting an experienced relief pitcher who would be their closer come Opening Day by experience. Jeffress could make in the market of $4-6 million a year, but when signing these pitchers, the Astros shouldn't look to spend above that line or for more than two years.
Shane Greene, right-hander
The Astros have not filled their need for a closer just yet, but at this point, the ball club might use a non-closer in the 9th like Ryan Pressly in 2020. Shane Greene had been with the Detroit Tigers since 2015 until he was traded to the Atlanta Braves. His 2019 All-Star campaign came with a 2.30 ERA through 62.2 innings that also included an ERA of 1.18 before being traded. Greene is a five pitch right-hander that relies on his sinker, but his strikeout rate has increasingly dropped. With a 2.60 ERA with the Braves in 2020, Greene struggled to strikeout batters, and this is something the Astros do not need. They are in need of a high strikeout rated pitcher to wrap out their bullpen if they are still shopping for a closer. At 32-years-old, Greene could make in the same market as Alex Colome and sign for $5-7 million. Greene is the best option out of these possible closers, but his asking price might be something the Astros are not looking at.
Mark Melancon, right-hander
More from Climbing Tal's Hill
As a known name to many fans, Mark Melancon is a former Astros closer from 2010-2011. With the Braves in 2020, the right-hander posted a 2.78 ERA with a very low strikeout rate (5.6). The 35-year-old will finish his career on one to two year deals until he retires, but that doesn't mean he can't be a reliable signing. He comes with four pitches, while relying on his cutter 55% of the time. As a veteran pitcher, Melancon can split time with Pressly or Enoli Paredes in 9th inning opportunities for the '21 season like he has done in recent years. Melancon holds a deferred $8 million that spreads over eight years, so while not a large chunk of cash, it is something to consider. The right-hander could make up to $8 million per year on the next deal he signs, which would put the Astros in a situation they might not want to be in, but if they can drop that number and add incentives, then it would be a good deal for a quality closer.
Aaron Sanchez, right-hander
The Astros traded for Aaron Sanchez for arm depth in 2019, but a shoulder injury ended his '19 season and sidelined him for all of 2020. While not being one of the most targeted arms on the market, the right-hander can start and come in long-relief, but health and recent stints in the majors haven't made him look any better. As a former All-Star, Sanchez is not near his peak form, which could mean a minor league contract is in his future. His ERA hasn't been below 4.25 since 2016, and while the Astros do not need to burn a 40-man spot for Sanchez, they could evaluate him in Spring Training as a cheap signing for depth.