Houston Astros: Remembering the late Don Sutton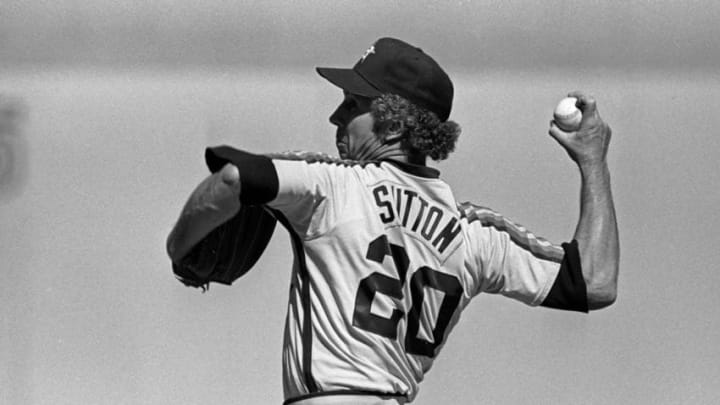 PITTSBURGH, PA - CIRCA 1981: (EDITORS NOTE: Image has been shot in black and white. Color version not available.) Pitcher Don Sutton #20 of the Houston Astros pitches against the Pittsburgh Pirates during a Major League Baseball game at Three Rivers Stadium circa 1981 in Pittsburgh, Pennsylvania. (Photo by George Gojkovich/Getty Images) /
On Tuesday, Daron Sutton announced that his father, Don Sutton, had passed away at the age of 75 at his home in Rancho Mirage, Cali. Sutton, who played 22 years in MLB, was a Hall of Famer, All-Star, and former Houston Astro.
Sutton was a young gun when he made his debut for the Los Angeles Dodgers in April 1996. He was surrounded by Sandy Koufax and Don Drysdale as a rookie. At 21 years old, he became the first rookie pitcher with at least 209 strikeouts in a season since 1911. The future was bright for the right-hander as he would pitch 14 more season in LA and wrack in four All-Star appearances, an All-Star MVP and was the MLB ERA leader in 1980.
In Dec. 1980, the Astros would sign Sutton. His presence was always matched by his consistency and the way he could fool batters. As an Astro, the Alabama native would lead the NL in WHIP (1.015) and SO/BB (3.59) in 1981. Then in Aug. 1982, the Astros would trade the future Hall of Famer to the Milwaukee Brewers for players to be named later and cash. The players were Kevin Bass, Frank DiPino and Mike Madden. Bass would go on to be an All-Star and would be the longest tenured Astro of this bunch. DiPino and Madden would have short stints on the mound, but nothing special came from it. Sutton would finish his Astros career with a 24-17 record, a 3.22 ERA, and 243 strikeouts.
Sutton would bounce around with the Brewers (1982–1984), Oakland Athletics (1985) and California Angels (1985–1987), while finishing his career with the Dodgers (1988). He would end his career at the age of 43. Come 1998, Sutton would join the Baseball Hall of Fame on his fifth ballot. He would finish his career with a 324–256 record, 3.26 ERA, and 3,574 strikeouts. The Braves inducted him into their Hall of Fame, and the Dodgers retired his number 20.
Don Sutton had been battling cancer until the time of his death. He is now the second Dodger great to pass this year. The first being Tommy Lasorda.