Astros operating like Rays as key players continually leave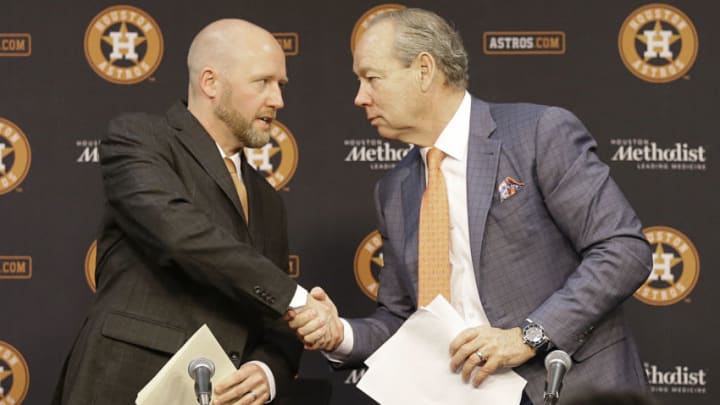 (Photo by Bob Levey/Getty Images) /
The Houston Astros are operating like a poorly-run version of the Rays.
The inevitable has finally come to pass, as Houston Astros fan favorite George Springer has left for greener pastures, taking a deal with the Toronto Blue Jays, and Michael Brantley may be joining him. We all knew Springer was gone, but there was still hope that Brantley might return. That likely won't happen now, of course, but it raises some important questions.
This marks the third straight offseason in which a key player, with All-Star appearances and awards under his belt, leaves in free agency. Dallas Keuchel was let go after 2018, and Gerrit Cole signed a megadeal with the Yankees after 2019. The Astros will face even more key decisions next offseason when Carlos Correa, Lance McCullers, Justin Verlander and Zack Greinke's contracts are up.
For the purposes of this, I'll ignore the Verlander and Greinke situations, as both are getting into the twilight of their careers. I'd still be happy to have one or both of them back, but it wouldn't necessarily be a travesty if they left. But that cannot be said for Correa and McCullers, who are two big pieces of this homegrown core that's won a championship and narrowly missed another.
The Astros have done well to sign Jose Altuve and Alex Bregman to contract extensions, ensuring they remain in Houston for at least the next few years. But they've already let some key players walk, and now it's looking like more of them are bound to go. The situation with Correa, in particular, doesn't look good despite his importance to the team.
They'll still have a solid group of players with Altuve, Bregman, Yordan Alvarez, Kyle Tucker, Framber Valdez, Jose Urquidy and Cristian Javier, and they have some intriguing prospects like Freudis Nova, Forrest Whitley and the newly signed Pedro Leon. So even if Correa and McCullers leave, the team can still be a contender with the right moves.
Still, you have to wonder what this front office is doing. The Astros may not be able to throw money around like the Yankees and Dodgers do, but they're not a small market team either. They don't have to operate like the Rays, and I'm wondering if GM James Click even realizes that. It's not just that they're not extending some of these guys — it's that it seems like they're not even trying.
Opportunity Knocks
To be fair, Cole looked ready to move on after the 2019 World Series loss, and Springer seemed intent on leaving as well. As great as they are, when you have someone who wants out, you can't throw stupid money at him until he changes his mind. That's just bad business, and it gets you into situations where you have albatross contracts dragging your entire franchise down.
But Correa doesn't seem like he wants to leave at all. He stepped up in a big way in 2020 to become the vocal leader of this team, and he was dynamite in the playoffs. He's also younger than any of the other big free agents who've left in recent years, so there's less of a chance that he'll hit a decline in the first half of a big extension.
McCullers is more of a wild card because of his injury history, but he could position himself for a nice payday if he puts together a good 2021 season. At least he and the Astros were able to agree on a salary for the 2021 season and avoid arbitration. That's not the case with Correa, and as I wrote recently, it doesn't bode well for the team's chances of retaining him beyond this year.
The failure to keep Brantley is also a black mark, as the Astros are left with two gaping holes in the outfield and in the lineup. Bringing back Uncle Mike would've been well within the team's financial abilities, but they also seemed content to just let him go. This isn't going over well with fans, as you might expect.
Why Let Everyone Leave?
Say what you want about former owner Drayton McLane, but at the very least, Craig Biggio and Jeff Bagwell finished their careers in Houston. As a fan, that's still important to me. Fellow cornerstones Lance Berkman and Roy Oswalt were only traded away when it became abundantly clear the team was no longer going to be competitive and needed to rebuild.
The Astros are currently in no such predicament. They still have plenty of talent and should remain competitive for the foreseeable future. They can't keep everyone, of course, but they have the financial wherewithal to keep more than just Altuve and Bregman. There's no reason they can't retain a couple more of their key homegrown players.
To be fair, times have changed. Biggio and Bagwell likely could've gotten more money elsewhere, but they passed on the chance to truly maximize their earning potential in order to stay in Houston. Players these days are less likely to do that, with Springer and Cole being prime examples. Still, the Astros are not penniless. They can afford to retain Correa, and maybe even McCullers too.
They took on a lot of salary in the trades for Verlander and Greinke, though the two-year extension they agreed to with Verlander looks like a bust, with the ace only making one start in 2020 and likely to miss most, if not all, of 2021 due to Tommy John surgery. The Altuve contract is hefty, especially given his struggles in 2020. So in light of that, they may be gun shy about giving out big deals.
More from Climbing Tal's Hill
New Way of Operating?
Click has operated that way so far, with the recent deal for reliever Pedro Baez being the biggest one he's handed out. With the team needing a closer, he's gone bargain shopping. They now have plenty of arms, but they don't have anyone I'd be comfortable with in the ninth inning of a one-run game. They're also still missing two outfielders.
We don't know how much Jim Crane has authorized Click to spend, so it's hard to lay the entirety of the blame at Click's feet. Who knows, maybe Crane is trying to distance this team from the sign stealing scandal by letting as many players go as he can. He already let the franchise be MLB's whipping boy for that mess, so it's entirely possible he's slowly dismantling it too.
Regardless, fans are getting tired of seeing key players leave every year. The Astros can afford to retain Correa, even though it'll be expensive. Maybe they do have an up-and-coming replacement in Nova, but at some point you've got to keep some of these stars. You can't operate like the Rays and expect to sell out Minute Maid Park or retain any fan loyalty.
What's worse, at least the Rays have the good sense to trade their players before they reach free agency. The Astros are just letting guys walk for nothing but a compensatory draft pick. It makes absolutely no sense. If you have no intention of signing your stars to contract extensions, at least trade them for a better return.
Yet the franchise seems to be trying to toe a line here. They don't want to upset fans by trading away their favorite players, but they also don't want to spend the money to keep them. It's why I'm not optimistic about their chances of signing Jackie Bradley Jr. or Marcell Ozuna. They just don't seem to have any desire to acquire or retain impact players since Click has come on board.
If Crane and Click have no plans to extend Correa and McCullers, why bother keeping them? Trade them now, and while they're at it, they might as well trade Altuve and Bregman and start over again. If you're going to be like the Rays, be like the Rays and do it right. Let Houston fans absorb all the bad news in one fell swoop.