Houston Astros 2020 Year in Review: Zack Greinke hot, cold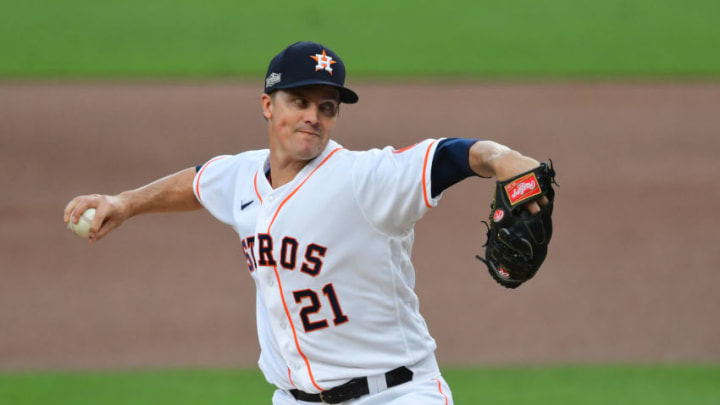 Oct 14, 2020; San Diego, California, USA; Houston Astros starting pitcher Zack Greinke (21) pitches in the first inning against the Tampa Bay Rays during game four of the 2020 ALCS at Petco Park. Mandatory Credit: Jayne Kamin-Oncea-USA TODAY Sports /
Zack Greinke was hot and cold for the Houston Astros during the 2020 season.
It seems so long ago, but there was a period of time during the 2020 season when Zack Greinke looked like the unquestioned ace of the Houston Astros rotation. Justin Verlander was injured, Lance McCullers wasn't quite himself and Framber Valdez hadn't yet emerged into the ace he turned out to be.
Greinke never stopped being one of the most important pitchers on the staff, but it's hard to ignore the fact that he regressed a bit. Now he doesn't look quite as much like an ace, but more like a mid-rotation starter. Is age finally catching up to him?
Regular Season
In 12 starts, Greinke went 3-3 with a 4.03 ERA and a 1.134 WHIP. His Fielding Independent Pitching was 2.80, indicating he was somewhat unlucky to have an ERA as high as it was. Most of his "bad" starts were derailed by one or two bad pitches, but unlike many other pitchers, he was at least healthy.
After a difficult first outing, Greinke fired off a run of four starts in which he allowed a combined three runs in 26 innings, capped off by an eight scoreless inning performance against Colorado on Aug. 18. His season ERA after that outing was 1.84, and he looked unstoppable. But then, suddenly, he wasn't unstoppable anymore.
Greinke allowed at least three runs in each of his final seven starts, though he completed five innings in all but one of those starts and only allowed five runs once. In many outings, he looked great except for one bad inning or a couple of bad pitches. But he had a 6.08 ERA in September after putting up a 2.19 ERA in August.
Postseason
Greinke battled in the Wild Card round despite not having his best stuff. He only completed four innings, but he allowed just one run. In the ALDS against Oakland, he started Game Four after experiencing some arm soreness, and allowed four runs in 4.2 innings. The Astros would go on to win the game anyway.
More from Climbing Tal's Hill
In the ALCS, with the Astros facing elimination, Greinke took the mound in Game Four and put up a gutsy, successful outing. He went six innings, allowing two runs while striking out seven. Manager Dusty Baker's decision to let Greinke work out of a jam in that sixth inning paid off, and the team was able to keep its season alive.
The Future
The Astros have Greinke under contract for one more season, which he will pitch at age 37. The future Hall of Famer is still an effective pitcher despite barely touching 90 mph with his fastball, so the team will rely on him to be a stabilizing veteran presence in a rotation with several young arms. It's highly unlikely that the team would try to trade him this offseason, so we won't entertain that silly notion.
Beyond 2021, it's anybody's guess as to what will happen. We don't know if Greinke will want to continue pitching or, if so, if he wants to remain in Houston. I certainly wouldn't mind seeing him finish his career here, as pitchers of his caliber don't just grow on trees. But Greinke tends to remain pretty guarded, so there's no telling what he'll decide to do.
Let's just hope his conversation with GM James Click went well. After his ALCS start, Greinke made a comment about how he felt the team didn't really believe in him until Baker let him work out of that jam. Hopefully that's been cleared up and both the team and the pitcher are now on the same page.
GRADE: B