Astros: How the bullpen could shake out in the postseason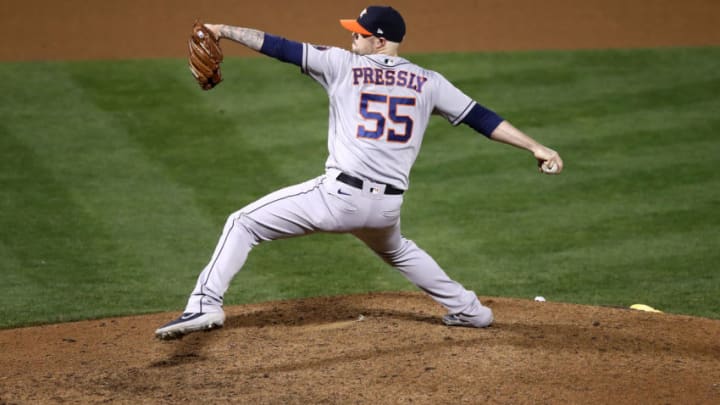 (Photo by Ezra Shaw/Getty Images) /
Here's how the Houston Astros bullpen could look in the postseason.
It hasn't been the most enjoyable season for Houston Astros fans thus far, but the good news is the team still has an excellent chance to make the postseason at 96.5 percent. They may be in a battle with the Mariners for a playoff spot, but their remaining schedule is much easier than Seattle's. With that in mind, let's see what the current picture is for the team's bullpen.
The bullpen has been the source of plenty of frustration for manager Dusty Baker and Astros fans this year. Closer Roberto Osuna has hardly pitched due to injury, Joe Smith opted out, and veterans Brad Peacock, Chris Devenski and Joe Biagini have been hurt and/or ineffective. It's forced the team to rely on a large contingent of rookies to get outs, and that has had its share of bumps.
The good news is there is strength in numbers in the rotation, and the Astros could have more healthy starting pitchers than they need for a playoff series. That could give them one or two extra candidates for the bullpen, which would be welcome. So, looking ahead to the postseason, here's how the bullpen could look.
Bullpen Blueprints
Ryan Pressly is likely to remain the closer, barring a monumental collapse for him down the stretch. He hasn't been his best, pitching to a 4.11 ERA and 1.435 WHIP in 17 appearances, but he's still the best option given his track record. Baker has almost no choice but to trust him in the ninth inning.
One key here will be the health of Blake Taylor, who's currently on the Injured List with elbow discomfort. He's been the team's best reliever this year, sporting a 2.12 ERA and 1.235 WHIP in 18 appearances. The rookie lefthander is going to be trusted with key outs if he's healthy. If he's not on the roster, that's a huge hole to fill.
HOUSTON, TEXAS – AUGUST 16: Enoli Paredes #60 of the Houston Astros pitches in the seventh inning against the Seattle Mariners at Minute Maid Park on August 16, 2020 in Houston, Texas. (Photo by Tim Warner/Getty Images) /
Fellow rookies Enoli Paredes and Andre Scrubb should be there as well. Paredes has had moments where he's looked dominant, but he's also struggled at times, posting a 3.24 ERA and 1.620 WHIP. Scrubb has managed to escape trouble like Houdini, which makes his 1.47 ERA look deceiving when you see that he's walked more batters than he's struck out.
Lefthander Brooks Raley will likely be in there as well, as he's pitched to a 3.97 ERA and 0.794 WHIP since the Astros acquired him from the Reds. Peacock has struggled and has diminished velocity, and Cionel Perez has been decent, so both are options but not locks at this point. Devenski, Biagini, Osuna and Bryan Abreu are unlikely to make the rosters.
Assuming Taylor is healthy, that's five relievers who are near-locks. Then you have Cy Sneed and Josh James, who have potential but who have also struggled this season. Humberto Castellanos has struggled as well, and it looks like Brandon Bielak is getting a look in relief, so these four all have an outside chance right now.
Reinforcements
The Astros will only need three starters in the best-of-three opening playoff series, which means the bullpen will have extra help. Zack Greinke will obviously be in the starting rotation, and Framber Valdez seems to have earned a spot as well. The third spot will likely come down to the health and readiness of Lance McCullers and Justin Verlander, both of whom look to be back for the postseason.
More from Climbing Tal's Hill
If Verlander is built up to start and ready to go, he probably gets the nod. If not, he could pitch out of the bullpen, which would leave McCullers and Cristian Javier to battle for the last rotation spot. If the Astros win the opening series, they'll probably need one more starter for the next matchup, but that still leaves one more arm for the bullpen.
Javier has been impressive, pitching to a 3.38 ERA and sterling 0.984 WHIP this season. On one hand, you want that in the rotation, but on the other hand, I feel like he could pitch quite well in relief. If Baker is shorthanded in the bullpen, perhaps Javier is someone he can rely on for some key outs.
McCullers has experience pitching in relief in the postseason, though he's been shaky this year in his first campaign back from Tommy John surgery. How the team can utilize him will depend on how he looks when he comes off the IL. At this point, it's hard to know how much he can be trusted in key situations. The same goes for Verlander as well.
Then there's rookie Luis Garcia, who's allowed only one run on two hits in his first 9.1 innings in the big leagues. We'll see over the next couple of weeks if the initial luster wears off or if he continues to impress. If he does, he seems likely ticketed for a bullpen spot as well.
But the bullpen should hopefully get a boost from at least one starter, and Javier might be the most effective one. The actual makeup of the pitching staff is still to be determined, of course, and a lot can change in the last couple of weeks of the season, so stay tuned.