Astros news: Minimalism at trade deadline pairs well with faith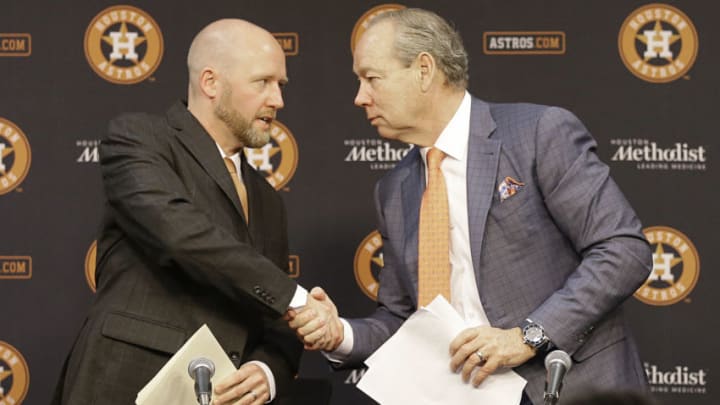 (Photo by Bob Levey/Getty Images) /
The Houston Astros made no moves at the deadline, but this pairs well with what James Click has done and building for the future.
The trade deadline came and went and the Houston Astros moved for no one, despite having a bullpen that is mediocre at best. With nine pitchers making their professional debuts this year, this bullpen is not exactly what you'd call experienced.
Aside from Ryan Pressly pulling up the caboose, the spattering of youngsters is definitely promising, if not fully realized yet. Which is why many expected James Click and the Astros to move for some additional arms.
They did not. But honestly, there are two factors at play here that make this silence unsurprising.
The Astros didn't do anything at the deadline but right thing
James Click, in his years with the Tampa Bay Rays, did not have the financial clout of teams like the Dodgers or Yankees, who can pay whoever the hell they want.
More from Climbing Tal's Hill
He had to take a very minimalistic approach, unearthing cheaper talents, younger talents, not exactly superstars, in order to keep the Rays afloat. It always worked. The Rays were the inspiring underdog that could hold a torch to the overlord Yankees and Red Sox.
That was Click's doing. Now, it's the way the Astros will go, since they also lack the financial clout of teams like the Dodgers or Yankees, though perhaps not to the same level as the Rays, who consistently struggled with attendance.
This minimal approach pairs well with what the Astros currently have going. Rather than overloading the bullpen with overpaid arms, they are instead showing faith in youngsters like Enoli Paredes, Andre Scrubb, and more.
These are guys that the club clearly hold in high regard, and by not stepping on their toes and not robbing them of innings, they're building a credit line with these young pitchers so that as that experience develops, they'll have that crucial piece that teams are so often missing—they'll have loyalty to the club.
Don't call it a rebuild, because this is still a team that can compete for the World Series, as Click himself said, but it is an investment into the future.
This notion that this team is drained of young talent is ridiculous. We are powered by young talent. What that means for the future isn't yet determined, but seeing Click turn that faith towards the youngsters is what's going to make the future brighter than it already is.