Astros: Previewing the return home against San Francisco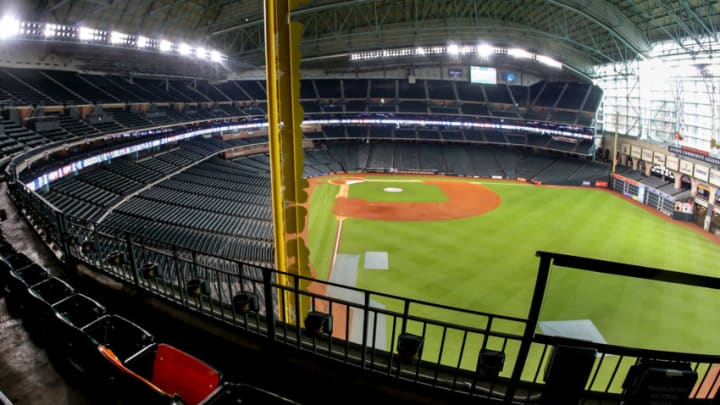 (Photo by Bob Levey/Getty Images) /
Coming back home could be just what the Houston Astros need after a tough trip.
To say the recently-completed road trip was a disappointment would be an understatement. The Houston Astros did manage a hard-fought series win in Anaheim, but lost two of three to the Diamondbacks and then got swept by the Athletics. A 3-6 road trip is not what anyone had in mind, but at least now they're back in the comfy confines of Minute Maid Park.
Sitting in third place in the AL West at 6-9 on the season, the Astros are welcoming the 7-10 San Francisco Giants to town for three games. The Giants have had their share of struggles this season as well, so it'll be an interesting matchup to say the least.
The Astros offense, while containing plenty of firepower, went completely cold in Oakland without leadoff man George Springer, who's still dealing with a wrist injury. There's no word yet on when he'll be back, but it's entirely possible he misses this series as well. Meanwhile the Giants are down two of their starting pitchers — Jeff Samardzija and Drew Smyly.
If the Houston offense can awaken, they should be able to win this series, as the Giants have had their issues on offense for sure. But that's a big if. Hopefully the melee in Oakland will have served as a wake up call for a team that really needs one.
Tonight's game will have the first pitch at 8:10 p.m. CT, as will Tuesday's game. Wednesday's series finale will begin at 6:10 p.m. CT. All three games will be broadcast locally on ATT SportsNet SW, while tonight's series opener will also be shown out-of-market on ESPN.
Pitching Matchups
Monday night's opener will feature Lance McCullers Jr. facing off against Logan Webb. McCullers got torched in his last outing and might have even been tipping his pitches, so we'll see how he responds after that. Webb, a 23-year-old rookie, is 1-0 with a 2.13 ERA in three starts this season, though his peripherals suggest he may have benefited from some good luck.
The Astros will send rookie Brandon Bielak to the mound on Tuesday. He's put up an 0.87 ERA in two relief appearances and one start, earning the win in his first career start against Arizona. The Giants have not officially announced a starter, but Tuesday would be Tyler Anderson's turn in the rotation. The left-hander has a 2.19 ERA in two starts and two relief appearances this season.
More from Climbing Tal's Hill
Zack Greinke will toe the rubber on Wednesday, but his opponent is to be determined, as it would've been the injured Samardzija's turn. Greinke has been brilliant in his past couple of starts and owns a 3.00 ERA on the season. Hopefully he'll be able to push his pitch count past 90 this time.
Players To Watch
For the Giants, keep an eye on outfielder Mike Yastrzemski. If you recognize the name, it's because he's the grandson of Hall of Famer Carl Yastrzemski. He's already 29 and only debuted in the majors last season, but he owns an impressive .322/.452/.661 line this season, leading his team in homers, extra-base hits, slugging, OPS and walks.
For the Astros, it's unfortunately Jose Altuve. The former MVP continues to struggle, and his woes have extended into the field as well. We all know the kind of talent he has, but perhaps the sign stealing mess and the reaction around the game are weighing heavily on him, causing him to press. This team needs Altuve at his best.
Astros Expectations
They need a win here, plain and simple. If the offense can get up off the mat, then they'll have a legitimate shot. But if Springer stays on the shelf and Altuve doesn't snap out of his funk, it'll make things that much harder.
Still, the expectation should definitely be to take two of three here. The Giants aren't nearly as good of a team as Oakland, so if the Astros don't just roll over, they should have a good shot at squeaking out a couple of wins here.