Houston Astros: Recap of James Click's first draft as GM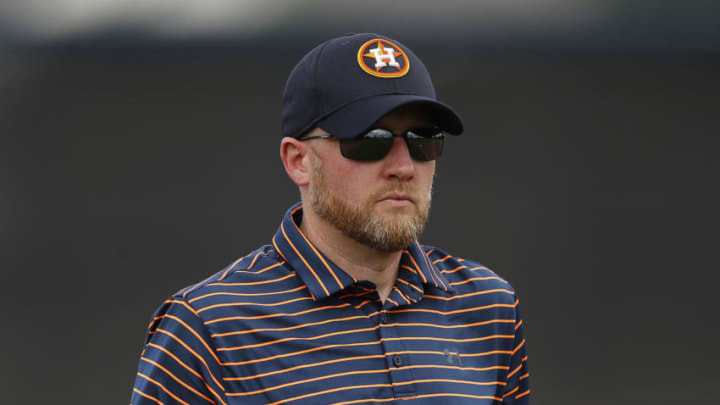 James Click (Photo by Michael Reaves/Getty Images) /
Houston Astros GM James Click brought four new players into the organization in his first draft.
While the Houston Astros did not have any picks on the first day of the 2020 MLB Draft, they did have four picks on Day Two. GM James Click, hired earlier this year in the wake of the sign stealing scandal that cost his predecessor Jeff Luhnow his job, got his first chance to put his stamp on the organization.
That same scandal also left the team without its first and second round picks, which can severely hamper a franchise down the road. Their first pick came at No. 72 overall, which was a compensatory pick for losing Gerrit Cole to the Yankees. They also had their third, fourth and fifth round picks in this short five-round draft.
Going into the draft, there was a question as to whether Click would focus on taking the best player available or try to draft more for need. The team's farm system is flush with right-handed pitchers, so some lefties and some position players would be welcome.
But Click soon let us know he was going with the best player available, taking right-handed pitchers with each of his first two selections. He grabbed an outfielder in the fourth round and an infielder in the fifth, so there was some balance here.
The Picks
With the team's first pick at No. 72 overall, Click went to the high school ranks for pitcher Alex Santos, ranked as the No. 56 prospect in this class by MLB.com. Coming out of the Bronx, New York, Santos just turned 18 in February and is more of a long-term project with a high ceiling. It's unlikely we'll see him in the majors anytime in the next couple of years. He did indicate he is leaning toward signing with Houston, and the slot value for his pick is $870,700.
More from Climbing Tal's Hill
In the third round at No. 102 overall, the Astros selected Vanderbilt pitcher Tyler Brown, who was ranked No. 133 in this draft class by MLB.com. A relief pitcher, Brown set a school record with 17 saves in 2019. He tends to pound the zone with strikes and certainly profiles as a relief pitcher. He could advance more quickly than Santos, and it sounds like he does expect to sign. The slot value for this pick is $577,000.
With their fourth round pick at No. 131 overall, Click went for a position player in Tennessee outfielder Zach Daniels. He didn't put up good numbers at college until this spring, when he compiled a 1.228 OPS in 17 games, though he struggled in the wood bat Cape Cod League last year. But he's got raw power and a high ceiling. The slot value for this pick is $430,800, and reports are that he's already agreed to terms with the team.
Finally, with the last pick in the draft at No. 160 overall, the Astros took UC San Diego shortstop Shay Whitcomb. Scouts expect him to hit, and he hit .303/.371/.606 with eight homers in 34 games in the Cape Cod League in 2019. He may or may not stick at short, but his bat could play regardless. The slot value here is $324,100.
More Coming
Now that the draft is complete, teams can sign undrafted free agents for bonuses no greater than $20,000, and they can sign as many as they wish. Click and his staff have undoubtedly been preparing for that, as have the other 29 teams. It will be interesting to see how that pans out.
We'll have more in-depth coverage of each of the Astros picks coming up as we take time to get to know each of them individually. We'll also put a grade on Click's first draft class after the undrafted free agent frenzy plays out.