Houston Astros: Championship era as Last Dance documentary
What would a Houston Astros documentary in the vein of "Last Dance" look like?
Piggybacking off the corona-megahit "Last Dance" on Netflix, it might be a good idea to consider what a Houston Astros documentary might look like. Sure a lot of other sports franchises or dynasties might hold a bit more clout throughout the national media, but given the direction our Astros have taken the last couple of months, we deserve our own mega-hit.
Thinking of a few different eras and their back stories might not be worth digging up or bringing back to life, but as lifelong fans of this beloved ballclub, it can be fun to reminisce and document and see the true back story of our beloved Astros.
Currently embattled with a tarnished championship and a hurting fanbase, the Astros have provided many harrowing storylines and reason for documentation throughout the years. In a multi-part series, we'll take a look at some of the more recent eras and see how they'd measure up against the Chicago Bulls dynasty blockbuster. Let's start with the current era.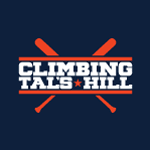 Want your voice heard? Join the Climbing Tal's Hill team!
Write for us!
2015-2019 Houston Astros
A few Astros eras come to mind when considering the tall task, but none can be as painfully raw or gloriously satisfying as our current era.
Rising from the ashes that were the cataclysmic rebuilding years of 2010-2014, the 2015 Astros reached a peak nobody thought possible at the beginning of the season. Completely blowing up the team of the early 2010s, this version of the Astros were homegrown, hungry and ready to compete.
The Astros of the mid-2010's proved to be one of the best this city – and the world – had ever seen with homegrown talents like Carlos Correa, Alex Bregman and George Springer joining perennial All-Star Jose Altuve. That nucleus took the Astros to a strong playoff run in 2015, only to lose to the eventual champs, the Kansas City Royals.
Hit by the injury bug in 2016, the Astros stumbled to a 84-78 record and fell just short of a playoff spot. 2017 was the team's year through and through, but will forever be in the record books of baseball as we know it for all the wrong reasons.
What would make the 2017 season a most compelling story for the national masses will no doubt be the scandal that dragged our beloved boys through the mud. From how the scandal started to Hurricane Harvey to our now-tarnished World Series run, it could make for rather a compelling story.
The storyline will no doubt be about how the Astros cheated their way to a championship and how some believe they used tasers to almost win it in 2019. The wild back story behind how bench coach Alex Cora and DH Carlos Beltran masterminded an elaborate scheme to let the hitter know what pitch was coming next will no doubt be a black eye on the franchise.
In fact, LeBron James' production company, Uninterrupted, is in the works to produce a documentary that seemed to have prompted Bregman to bounce on his agent, who works for the same parent company.
LeBron's Uninterrupted is helping produce a documentary about the Astros' sign-stealing scandal https://t.co/uRS3a6ayKQ

— Sports Illustrated (@SInow) May 15, 2020
In purely baseball terms, the 2018 and 2019 seasons rolled along, and with there being three straight 100-win seasons, this was truly a great time to be an Astros fan. Coming eight outs short of a championship was tough, as winning two championships in three years would be considered a dynasty in this day and age of Major League Baseball.
Another Stain
Painting the Astros as MLB's villains would also fit the narrative of their pursuit of closer Roberto Osuna from the Toronto Blue Jays. An alleged domestic abuser, Osuna gave the Astros some public backlash, as it seemed they lacked a moral compass compared with MLB's zero-tolerance policy toward abuse.
To compound the villain plot line, the Astros also faced some criticism for how a member of their front office reacted when they beat the Yankees to go to the 2019 World Series. Assistant General Manager Brandon Taubman, with three women present as the Astros celebrated their second pennant in three years, yelled out, "Thank God we got Osuna! I'm so ****** glad we got Osuna!" This put extra focus on the Astros' seeming defiance of baseball's zero-tolerance policy and a callous outlook on domestic violence.
But we deserve a better storyline, don't we? Whether you let Zack Greinke keep going in Game Seven or Andrew Benintendi doesn't make that catch in 2018, our team deserved better. Our fans deserved better.
The documentary, in my Astros-colored glasses, would be about the rise from the ashes and from the catastrophic hurricane story with our nucleus of stars and our midseason and offseason acquisitions of one of the best pitching staffs any team had ever seen.
Astros rotation:

Justin Verlander
Gerrit Cole
Zack Greinke
Wade Miley

🔥🔥🔥🔥 pic.twitter.com/BrggB2wZwt

— Starting 9 (@Starting9) July 31, 2019
To the rest of the world, AJ Hinch, Altuve, Springer, Verlander, Bregman and Correa might be villains. But to a Houston fan, with how they banded together in those dog days of August to the long, heroic nights in Los Angeles – these Astros will always be heroes to this city.
Scandal aside, the 2015-2019 era can be told about a group of young, brash, clutch hitters, with a strong rotation and up and down bullpen, who brought the city together to celebrate its first championship since the Jordan-less years of the 1990s.
In the next part of the series, we'll dissect the "Dierker Era," or the late '90s, and all the storylines behind those teams.