Astros: MLB could let localities decide on fan attendance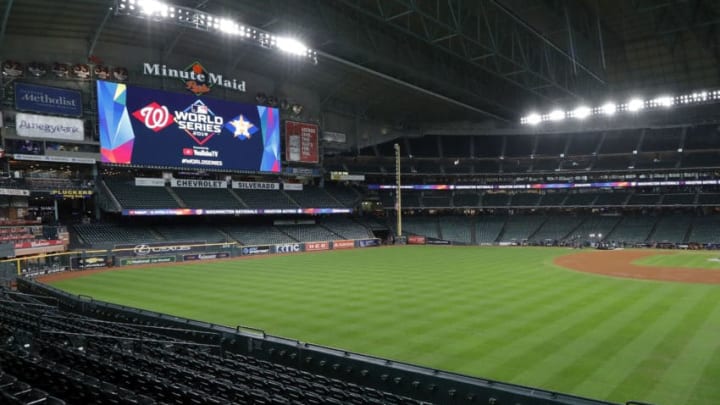 (Photo by Tim Warner/Getty Images) /
MLB could let local governments decide whether to allow fans in the stands, which might help the Houston Astros.
We're still not sure if there will be a Major League Baseball season in 2020 as the league and the players union continue to squabble over money. But the Dallas Morning News is reporting that, if there is a season, MLB "is inclined" to let local governments decide whether to allow fans to attend games, which could be a big boost for the Houston Astros.
This report comes on the heels of Texas Governor Greg Abbott's announcement that stadiums could have up to 50 percent capacity. Minute Maid Park's capacity is 41,000, so if things worked out right, the Astros could allow slightly more than 20,000 fans to attend games.
That doesn't necessarily mean it's a guarantee, though. For one, while the state may allow stadiums to be open to fans, local governments could have a say in the matter as well. It's entirely possible the City of Houston would not be in agreement with the governor's order, which could create a bit of a quandary.
More from Climbing Tal's Hill
It's also possible that the Astros simply won't be comfortable allowing fans into the games, and they won't be obligated to do so. But if they want to have fans in attendance and the city doesn't stand in their way, there could be opportunities for Houstonians to cheer on their Astros in person this year.
Still Up In The Air
I have to stress that nothing is set in stone yet. We're still waiting to find out if there will even be a season, and this possibility could throw another wrinkle into that. If MLB allows localities to decide whether to allow fans, it could upset the teams whose municipalities aren't allowing fans. They'll be at a big disadvantage from a revenue standpoint.
Would teams who do have fans get to keep all the proceeds, or would they be forced to share those proceeds with the teams that don't? I could see both sides of that argument, and something like this could theoretically throw a wrench into things and cause some disagreement among the MLB teams themselves.
But it's interesting to know that as things appear to stand right now, neither the league nor the state would stand in the way if the Astros wanted to allow some fans to come to the games. Let's hope there's actually an MLB season so we can see whether this comes to fruition.