Astros have four picks in five-round 2020 MLB amateur draft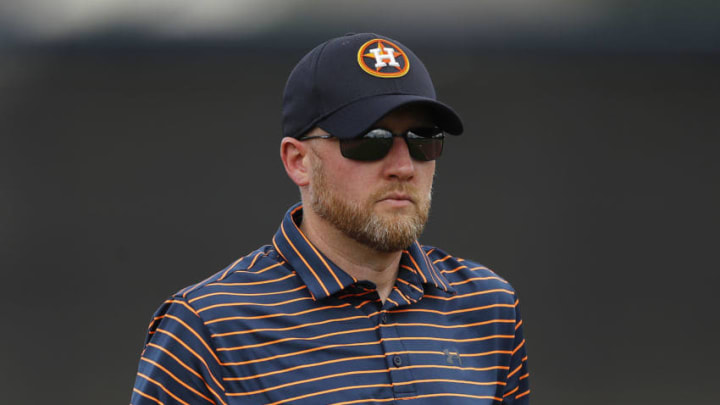 James Click (Photo by Michael Reaves/Getty Images) /
The Houston Astros will have four picks in the shortened five-round MLB draft.
The 2020 MLB amateur draft will begin on June 10, but it will be much less extensive than in previous years. This time, the draft will only be five rounds, as opposed to the typical 40 rounds of recent drafts. This will leave the Houston Astros with four total selections thanks to their punishment for the sign stealing scandal.
The team lost its first and second round picks in the punishment, so it will have picks in the third, fourth and fifth rounds coming at 101st, 131st and 160th, respectively. Additionally, the Astros will have a compensatory pick for the loss of Gerrit Cole coming at 72nd overall.
With the draft only five rounds in length, teams will be able to sign an unlimited number of undrafted players for a bonus not to exceed $20,000. The signing bonuses that are given in this draft will be spread out over three years.
This doesn't help the Astros much, as the loss of their first two picks is going to sting regardless. There's no real advantage or disadvantage to the team as a result of the shortened draft, at least not compared to the other teams. Most of the top talent will go in the first couple of rounds anyway, and it's not easy to find future MLB impact players in later rounds.
More from Climbing Tal's Hill
What it does mean in general is that many college underclassmen will opt to return to school, and many high schoolers will attend college. With fewer draft slots available and thus less money available in signing bonuses, some potential major league talent could end up forgoing the draft and trying again in a subsequent year.
Advantage to the Astros?
We still don't know if future drafts will go back to 40 rounds, so it's hard to tell how this year's shortened draft will affect future ones. Theoretically, if a number of high schoolers opt to go to college this year, that could mean an influx of draft-eligible talent three or four years from now. That part could work in the Astros' favor.
They'll still be without their first and second round picks in the 2021 draft as well. But if that draft goes back to 40 rounds (or something considerably longer than five rounds), there could be some additional talent waiting for the Astros in the third round and later.
Again, it's too early to say for sure how this will affect future drafts, but whatever the league does is certainly something to keep a close eye on. New GM James Click is attempting to restock a farm system that has tumbled in the rankings in recent years thanks to several trades and some top prospects graduating to the majors. How he manages that will have a big effect on the team's ability to be competitive in the future.