Astros named 11th most valuable baseball franchise by Forbes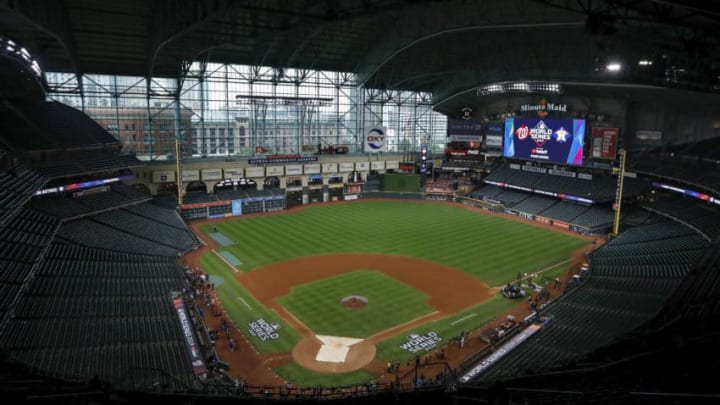 HOUSTON, TX - OCTOBER 30: A general view of the stadium before Game Seven of the 2019 World Series between the Houston Astros and the Washington Nationals at Minute Maid Park on October 30, 2019 in Houston, Texas. (Photo by Tim Warner/Getty Images) /
The Houston Astros were named the 11th most valuable baseball franchise.
Forbes released its annual valuations of professional sports franchises, and the Houston Astros came in at 11th place among the 30 MLB franchises. Their value is estimated at $1.85 billion, which is a four percent increase from the year prior. They also generated the highest profit of any MLB team in 2019 at $99 million.
The New York Yankees were the most valuable, listed at being worth $5 billion, leaving them second among all sports franchises, trailing only the Dallas Cowboys. The Dodgers, Red Sox, Cubs and Giants round out the MLB's top five, with all of them being worth more than $3 billion.
The Marlins were listed as the least valuable MLB franchise, coming in at $980 million. They were one of only two franchises, with the other being the Pirates, to lose value from last year's ratings. The Marlins were also the only team to be valued at less than $1 billion.
In the AL West, the Astros came in second, trailing the overall ninth-place Angels at $1.975 billion. The Rangers are ranked 13th, the Mariners at 16th, and the Athletics at 26th. The teams with the biggest jumps from last year were the Yankees, Nationals and Orioles, who all increased by nine percent.
More from Climbing Tal's Hill
Jim Crane's ownership group purchased the Astros from former owner Drayton McLane for $680 million back in 2011. That means in less than a decade, the value of the franchise has nearly tripled from what Crane paid for it. This is pretty consistent with how quickly team values have risen in recent years.
Going Viral
Forbes also offers some insight into how the COVID-19 pandemic will affect the league from a financial standpoint. In 2019, MLB generated a total of $10.5 billion in revenue. The largest individual portion of that came from gate receipts, which generated $3.2 billion. National media revenue was $3.1 billion and local media was $2.2 billion. Those three numbers are key.
If the league is able to play some form of a season, it could keep most or all of the national and local media revenue. However, if games are played in empty stadiums as is currently being considered, the gate receipts will disappear. Most of the $925 million that comes from other stadium revenue would be in jeopardy as well.
That doesn't mean the rapidly appreciating MLB franchises will suddenly go belly up, but it will hamstring things for a year or two. Still, the Astros are in a better position than many others thanks to them being the most profitable team last year. They'll have cash on hand to weather the storm until things get back to normal.