Houston Astros: Which players will break out in 2020?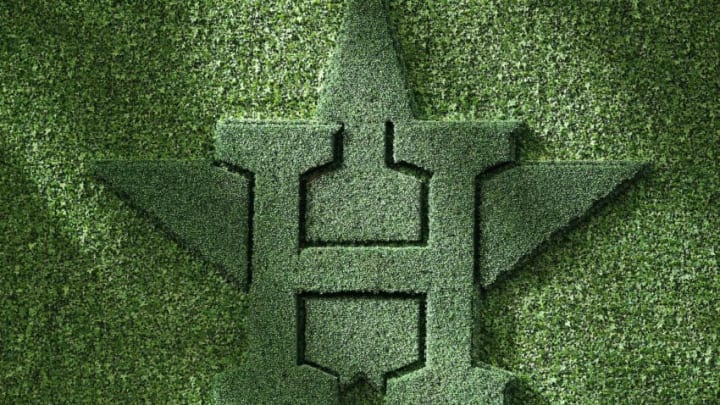 HOUSTON, TEXAS - OCTOBER 22: A view of the Houston Astros logo in centerfield during batting practice prior to Game One of the 2019 World Series between the Houston Astros and the Washington Nationals at Minute Maid Park on October 22, 2019 in Houston, Texas. (Photo by Bob Levey/Getty Images) /
SEATTLE, WA – JULY 31: Kyle Tucker #3 of the Houston Astros connects with the ball for a line out to left field against the Seattle Mariners in the at Safeco Field on July 31, 2018 in Seattle, Washington. (Photo by Lindsey Wasson/Getty Images) /
Outfielder Queries
The outfield seems a bit more crucial to determine from a perspective of depth, this being the contract year for George Springer. Both Josh Reddick and Michael Brantley also both become FAs at the end of the 2020 season.
The outfield has been something the Astros have always had a bit of depth in, but with trades at the deadline last year, it's an area where our farm system needs to step up. Let's have a look at what we saw during the short stint at Spring Training.
That Kyle Tucker gets a fair number of starts in right field, platooning with Reddick, seems to be a given at this point. It also seems highly unlikely that Tucker won't be on the 26-man roster to begin the season.
More from Climbing Tal's Hill
The outfield situation also weighs in favor of Straw becoming that 26th man since it is likely that Straw becomes a starter in the outfield in 2021. If for nothing else, this makes it crucial for him to see ample playing time in 2020. From a perspective of depth, though, we've got three outfielders who will hopefully see more playing time once Spring Training resumes.
Ronnie Dawson will be a much-needed left handed hitter who happens to play center field.  While Dawson's early spring training numbers were less than impressive this year, his minor league playing history seems to indicate he has some potential for power, especially with regular playing time. Dawson's overall BA in the minors averages at .245, but his historic numbers include some seasons over the .250 mark and indicate he has some power with an OPS that is not altogether horrible.
On the flipside, Drew Ferguson moves around the outfield a bit, playing mostly center field. Ferguson has some pretty impressive minor league career numbers and an overall batting average of .293 with an OPS of .845. Drafted in the 19th round in 2015, Ferguson was returned to Houston in March of 2019 after being DFA'd by the San Francisco Giants who drafted him in the Rule 5 draft of 2018.
This brings us to Chas McCormick who was selected in the 21st round of the 2017 draft. McCormick mostly plays in left field and appeared in 15 games this year in Spring Training. McCormick's defense was memorable even if his minor career league BA of .276 was not reflected in camp, though sample sizes are very small.
None of these three outfielders were completely stellar in the short time they were at camp this spring, but it's hopeful that we'll see some impressive play once camp resumes.
While the uncertainty of the 2020 season weighs heavily on the minds of baseball fans, we can only imagine how the players are feeling. We're two weeks into the projected eight-week season delay, and the dog days of summer are creeping closer and closer.
For now, stay safe and we'll all enjoy the highlight reels for a bit longer as we anticipate the announcement of Opening Day 2020.