Players You Forgot Were Astros: Pitcher Mike Cuellar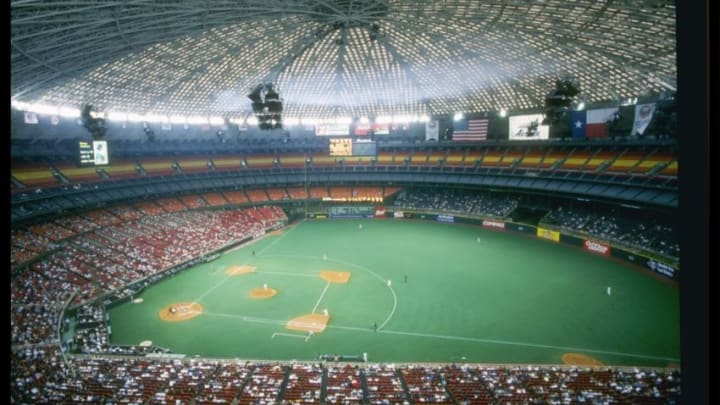 29 Aug 1996: General view of the Houston Astrodome during a game between the Chicago Cubs and the Houston Astros in Houston, Texas. The Cubs won the game 4-3. /
In this installment of the Players You Forgot Were Astros series, we look at pitcher Mike Cuellar.
For this one, we're turning back the clock to the early days of the Houston Astros. In the first three seasons following the name change from the Colt .45s, they had a Cuban-born left-handed pitcher on the roster by the name of Mike Cuellar, who would go on to have even more success in another city.
Cuellar initially signed with the Reds as an amateur free agent in 1957. He had a brief appearance in the majors in 1959 but otherwise spent several years confined to the minor leagues. He made it back to the majors with the Cardinals in 1964, pitching mostly in relief and posting a 4.50 ERA.
The newly-minted Astros under GM Paul Richards traded for the then-28-year-old in June of 1965. To get him, they gave up lefty reliever Hal Woodeshick, who was an All-Star in 1963 and led the league in saves in 1964, and minor league righty Chuck Taylor, who went on to post a career 3.07 ERA in 305 appearances, mostly in relief. Along with Cuellar, they also picked up pitcher Ron Taylor, who posted a 6.03 ERA in 68 games in Houston.
Cuellar pitched mostly in relief in 1965, posting a 3.54 ERA in 25 appearances. But the following year, in his age 29 season, Cuellar blossomed as a member of the starting rotation. He threw 227.1 innings and worked to a 2.22 ERA. In 1967, he won 16 games with a 3.03 ERA and made the All-Star team. He then posted a 2.74 ERA in 1968, though he only managed an 8-11 record.
The Fateful Deal
More from Climbing Tal's Hill
Following the 1968 season, the Astros and GM H.B. Richardson traded the 31-year-old to Baltimore. The centerpiece of the return was outfielder/first baseman Curt Blefary, who was 25 at the time and had hit 82 home runs in four seasons with the Orioles.
Blefary hit .253/.347/.393 with 12 homers in 155 games for the Astros in 1969, and that would prove to be his only season in Houston. He was shipped to the Yankees in exchange for outfielder/first baseman Joe Pepitone, who played in only 75 games for the Astros before being sold to the Cubs.
So in other words, the Astros didn't get much in exchange for Cuellar. But the deal worked out pretty well for the Orioles, as Cuellar would win the Cy Young Award in his first season in Baltimore, winning 23 games with a 2.38 ERA.
That would be the first of six straight seasons with at least 18 wins for Cuellar. He led the majors with 24 wins in 1970, made three All-Star teams and earned a couple of Top-10 MVP finishes. All told, he went 143-88 with a 3.18 ERA in eight seasons in Baltimore, and the Astros gave that up for very little in return.
He finished his career with 185 wins and a 3.14 ERA despite not really catching on until his late 20s. If he'd managed to establish himself sooner, we could be talking about a Hall of Fame career.