Explaining my 2020 FanSided Mock Hall of Fame ballot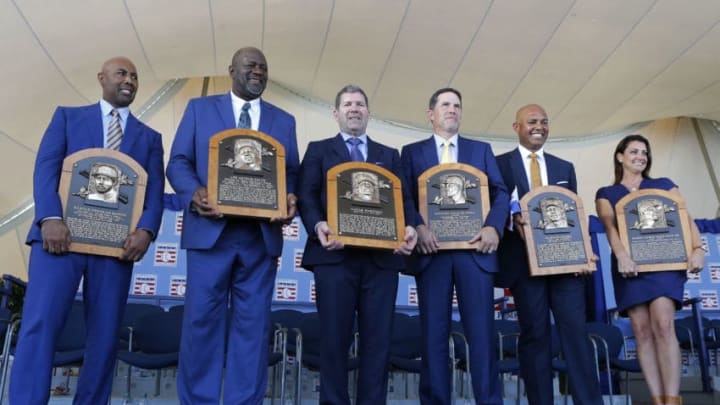 COOPERSTOWN, NEW YORK - JULY 21: Inductees (from left) Harold Baines, Lee Smith, Edgar Martinez, Mike Mussina, Mariano Rivera and Brandy Halladay, wife the late Roy Halladay, pose with their plaques during the Baseball Hall of Fame induction ceremony at Clark Sports Center on July 21, 2019 in Cooperstown, New York. (Photo by Jim McIsaac/Getty Images) /
Here's how I voted in the 2020 FanSided Mock Hall of Fame voting.
We here at FanSided decided to have our own Mock Hall of Fame vote to correspond with the actual National Baseball Hall of Fame, just to see how each site's experts would collectively vote. You can check out the full results. Spoiler alert: The only one to reach 75 percent was Derek Jeter.
One of the main issues that still dominates this discussion is that of performance enhancing drug use. Many voters still steadfastly refuse to vote for players who admitted to or were suspected of using steroids, claiming they cheated and therefore have moral objections to their inclusion.
This argument might hold water if the Hall of Fame didn't already include cheaters and other individuals with questionable moral character. Gaylord Perry had a wide reputation for throwing spitballs, George Brett had his infamous pine tar incident, Ty Cobb had a history of violent confrontations, and commissioner Kenesaw Mountain Landis has been dogged by accusations of racism and of delaying the sport's integration.
And let's not forget that Mr. Steroid Era himself, Bud Selig, is in the Hall of Fame. Selig looked the other way in the 1990s and early 2000s as home run records were shattered, seeing the resulting increase in fan interest and attendance. The league did not see fit to start drug testing and enforcing steroid bans until the mid-2000s, so it's rather unfair to punish the players when MLB simply decided to let it happen.
Besides, anyone who thinks there aren't steroid users already in the Hall of Fame are only kidding themselves. There's no way to definitively identify who did and didn't juice, and there's also no way to tell how much a particular player benefited from the potential steroid use. The best policy is just to judge each player by his merits and look at whether he was one of the best players of his era.
With that in mind, my 10-player ballot consisted of Barry Bonds, Roger Clemens, Todd Helton, Derek Jeter, Andruw Jones, Scott Rolen, Curt Schilling, Gary Sheffield, Billy Wagner and Larry Walker. I'll discuss each player and a handful of others split into the following three categories: The Surefire Picks, The Borderline Picks and The Ones Who Just Missed. And I'll also discuss one player separately at the end.