Explaining my 2020 FanSided Mock Hall of Fame ballot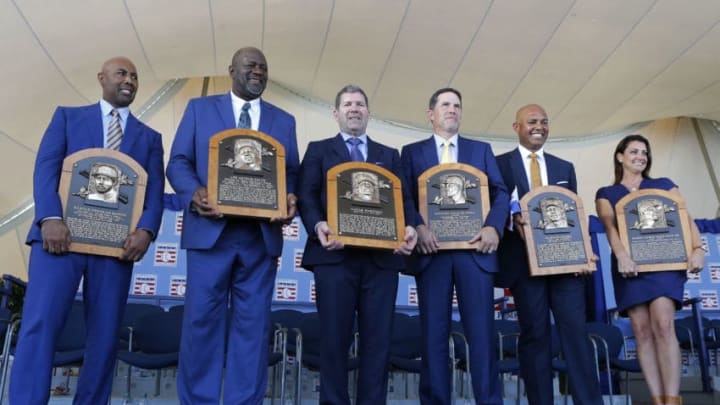 COOPERSTOWN, NEW YORK - JULY 21: Inductees (from left) Harold Baines, Lee Smith, Edgar Martinez, Mike Mussina, Mariano Rivera and Brandy Halladay, wife the late Roy Halladay, pose with their plaques during the Baseball Hall of Fame induction ceremony at Clark Sports Center on July 21, 2019 in Cooperstown, New York. (Photo by Jim McIsaac/Getty Images) /
BOSTON – OCTOBER 13: Starting pitcher Curt Schilling #38 of the Boston Red Sox pitches in the first inning of Game Two of the American League Championship Series against the Cleveland Indians at Fenway Park on October 13, 2007 in Boston, Massachusetts. (Photo by Elsa/Getty Images) /
The Surefire Picks
Bonds, Clemens and Jeter really don't need much discussion. Bonds is the all-time leader in home runs and walks, winner of seven MVPs and eight Gold Gloves. Clemens is a seven-time Cy Young winner, third all-time in strikeouts and ninth all-time in wins. Jeter is sixth all-time in hits and was a champion in every sense of the word. The Hall of Fame would be a sham without these guys.
Curt Schilling
The fact that Schilling hasn't already been elected to the Hall is a travesty. There's absolutely no case to be made that his numbers aren't good enough. He surpassed the traditional barometer of 3,000 career strikeouts, and his 80.5 career pitching WAR is better than several Hall of Famers including Tom Glavine, Don Sutton, Jim Palmer and Bob Feller.
The main reason voters don't choose him is political. Since he retired, Schilling has made several controversial statements and social media posts, drawing the ire of a great number of people. I'm not defending his political views — I simply don't care. They should have absolutely no bearing on his candidacy.
But unfortunately many voters are letting their personal feelings about Schilling's political views get in the way of their duty to vote for the most deserving players, which is one of the myriad issues with the current voting system. Any objective analysis of his career would show he belongs in the Hall.
The man was one of the best pitchers of his day and a force in the playoffs and also was the recipient of the Roberto Clemente Award, the Branch Rickey Award and the Lou Gehrig Memorial Award. He's seventh all-time in strikeout-to-walk ratio and the only one in the Top 10 to amass 3,000 strikeouts. Get this man to Cooperstown.
Billy Wagner
I'm surprised Wagner gets such little consideration from the voters. To me, he's a slam dunk Hall of Famer, especially when you compare his stats to those of other top relievers. I recently made the case for him, so I won't rehash it here. In short, I think he's the best left-handed reliever to ever play.