Players You Forgot Were Astros: Hall of Famer Nellie Fox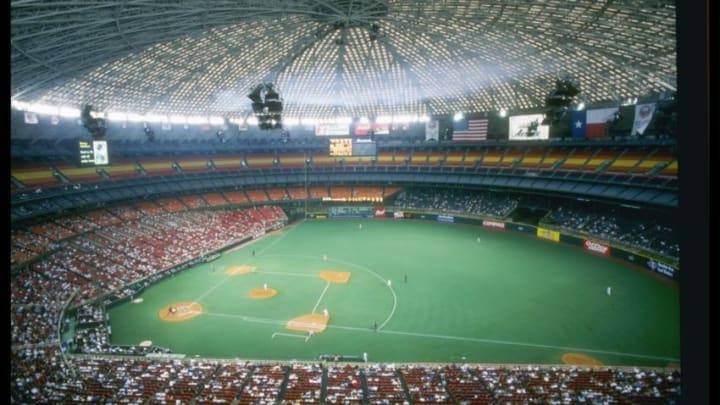 29 Aug 1996: General view of the Houston Astrodome during a game between the Chicago Cubs and the Houston Astros in Houston, Texas. The Cubs won the game 4-3. /
In this installment of the Players You Forgot Were Astros series, we look at the career of Nellie Fox.
There have been several Hall of Famers who've called Houston home over the years. Guys such as Craig Biggio and Jeff Bagwell went into Cooperstown with an Astros cap, while other guys like Joe Morgan, Randy Johnson and Ivan Rodriguez spent more time elsewhere. But one guy fans don't typically remember is second baseman Nellie Fox.
Fox made his debut with the Philadelphia Athletics in 1947 and was then traded to the White Sox following the 1949 season. He spent the best years of his career in Chicago, being named to 15 All-Star games, winning three Gold Glove Awards and one MVP in 1959.
He was not a power threat, hitting only 35 home runs in his 19 major league seasons. But he had a 10-season run in which he never hit below .285, leading the league in games played, plate appearances and at-bats five times each. He also led the league in hits four times.
More from Climbing Tal's Hill
He wasn't much of a stolen base threat and didn't walk particularly much, but there's one stat that really jumps out: strikeouts. His career-high in strikeouts in a season came in 1953 when he had 692 plate appearances and struck out a meager 18 times.
For his entire career, Fox totaled more than 10,000 plate appearances and struck out a total of 216 times. By contrast, that's four more strikeouts than Chris Carter totaled for the Astros in 2013 alone.
Astros Career
The White Sox traded Fox to the Colt .45s following the 1963 season in exchange for pitchers Jim Golden and Danny Murphy. Golden did not pitch another major league game following the trade, while Murphy totaled a 4.66 ERA in 68 relief appearances over two seasons in Chicago.
Fox put up a .265/.320/.319 line in 133 games in 1964. The club re-signed him for 1965, though he only played in 21 games. But in his final season, he was part of the inaugural Astros club and played some of the earliest games at the Astrodome.
He was elected to the Hall of Fame by the Veterans Committee in 1997, more than two decades following his death from skin cancer. He is regarded as one of the best defensive second basemen to play the game and one of the toughest outs any pitcher ever faced.