Astros make a switch to the rotation for the Rangers series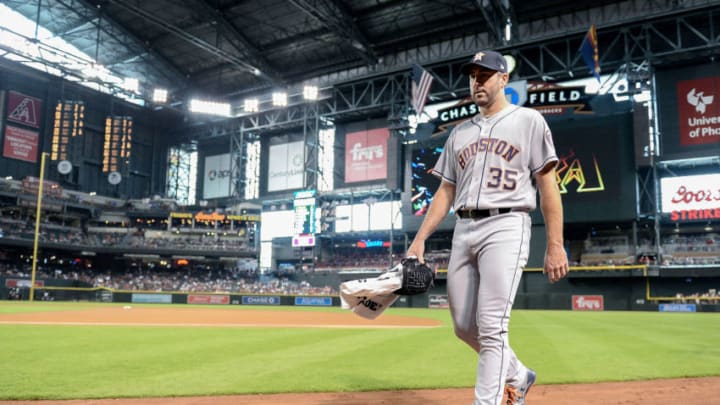 PHOENIX, AZ - MAY 06: Justin Verlander #35 of the Houston Astros walks to the dugout for the MLB game against the Arizona Diamondbacks at Chase Field on May 6, 2018 in Phoenix, Arizona. (Photo by Jennifer Stewart/Getty Images) /
Justin Verlander and Charlie Morton switch starting assignments for the Astros.
The Houston Astros have such a deep rotation that there is no drop off between starters. Every time my wife and I watch Gerrit Cole pitch, she says that he should be ahead of Dallas Keuchel. After I explain that the pitching order doesn't really matter after the start of the year, she will say yes it does. We will see how they re-align things at the All-Star break.
Justin Verlander is the Astros ace, but he last pitched last Sunday. With the current rotation, Charlie Morton was to follow Gerrit Cole on Friday night versus the Rangers. Morton has continued his success from the playoffs last year, but there is one problem.
His name is not Justin Verlander.
One of the perks of being the ace is that they will try to pitch him on regular rest as much as possible. We have seen this in the past with Keuchel. They try to pitch him every fifth day. It's just what you do. However, there is a new ace in town.
More from Astros News
Before today's day game, the Stros announced that Morton and Verlander will swap starts. According to Brian McTaggart, Verlander will take the mound versus his opening day opponent Cole Hamels on Friday. Morton will move to Saturday and will face Doug Fister, who pitched the second game of the season versus the Astros. Morton is keeping up with the rest of the rotation, but it sets up a better matchup with the Rangers' ace.
As the Tigers beat writer, Jason Beck tweeted, "Verlander often likes to keep on regular rest." With how Verlander has pitched in his time with Houston, you want him to pitch more often. In 13 starts with the Astros in the regular season, he is 9-1 with a 1.13 ERA and 113 strikeouts in 87 2/3 innings. This season, he has a 4-1 record with a 1.17 ERA and 70 strikeouts in 53 2/3 innings.
Next: George Springer is heating up at the plate with six hit night
This technically moves Morton into the second spot of the rotation ahead of Keuchel. Verlander, Cole, and Morton have outpitched Keuchel and Lance McCullers. However, those two pitchers aren't chopped liver either. The rotation is in good shape no matter the order. Since I am going to the game Friday, I'm excited to get to watch Verlander pitch.
***Stats from Baseball-Reference***