Astros in the Minors: Abraham Toro Leading Charge For Buies Creek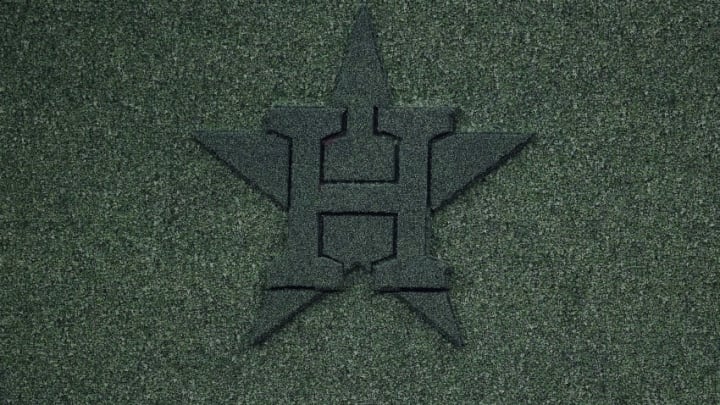 HOUSTON, TX - OCTOBER 06: The Houston Astros logo is seen on the centerfield wall before game two of the American League Division Series between the Boston Red Sox and the Houston Astros at Minute Maid Park on October 6, 2017 in Houston, Texas. (Photo by Ronald Martinez/Getty Images) /
A walk-off home run highlights strong early season for Astros' prospect Abraham Toro.
The Buies Creek Astros are off to a quick start in the Carolina League. After losing three of their first four, the Astros' Single-A affiliate have gone 13-4 including a seven game win streak a week ago.  
One of the highlights for the team was a come-from-behind victory over the Down East Wood Ducks on Wednesday. Tied at one run after nine innnings, each team took advantage of the new rule in which a runner starts on second base in the extra innings. Down East had scored their runner to take a 2-1 lead, but three pitches into the bottom half of the inning, Abraham Toro (sometimes referred to as Toro-Hernandez) hit a home run for the walk-off win.  
Toro spoke with Sammy Batten of The Fayetteville Observer about his game-winning home run and how he approached the eventful at-bat.
""I was trying to look for something up because they'd been pitching me down all game,″"
He also added the following:
""I got something up and hit it. I had no idea for sure it was going out, but I was glad it did.″"
Toro validating the excitement of the Astros front office 
With the walk-off, Toro took the Buies Creek team lead in home runs (3). He also leads the team in RBI (16) and is tied for the team lead in runs scored (16). In his third season since being drafted in the 5th round in 2016, it is easy to see why the Astros front office is excited about Toro's potential. 
Drafted out Seminole State College (Oklahoma), Toro is the walking definition of a versatile player. He is a switch hitter, hitting .316 against right-handers and .231 against left-handers in 2018.  
Defensively, Toro profiles pretty much anywhere the club needs him to play. Growing up, he was primarily a shortstop but mostly played third base in college and since being drafted according to Brian McTaggart of MLB.com. There is even talk that he might fill out best as a catcher down the road, if necessary.  
That's just the baseball side of Toro. Because his family was originally from Venezuela but moved to Canada shortly before he was born, Toro has command of Spanish, French and English languages. All-in-all, it looks like Toro can fit in anywhere he is needed.  
Buies Creek face off against Frederick Keys this weekend
Buies Creek play against the Orioles' affiliate, the Frederick Keys, starting Friday, and then have another three-game series against Down East to begin a road trip.  
Next: Astros Series Preview: Can the Team Turn the Oakland A's From the Foes to the Woes?
By the way, the Keys are led by Preston Palmeiro, son of former Major Leaguer Rafael Palmeiro.
**Statistics and information courtesy of MiLB.com**