Astros Prospects: Projecting the Path of J.B. Bukauskas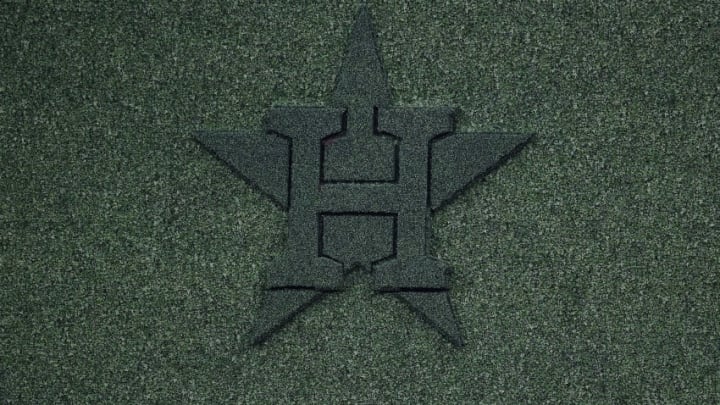 HOUSTON, TX - OCTOBER 06: The Houston Astros logo is seen on the centerfield wall before game two of the American League Division Series between the Boston Red Sox and the Houston Astros at Minute Maid Park on October 6, 2017 in Houston, Texas. (Photo by Ronald Martinez/Getty Images) /
A look at the path for one of the Astros top prospects.
A few days ago, Michael Baumann wrote an article about "The End of the Starting Pitcher." The headline photo shows Astros starter Lance McCullers front and center. In the article, Baumann outlines the evolution of the starting pitcher and proclaims McCullers as the "archetype" of a new generation of starters.
But then he writes, "the Astros spent their first-round pick last year on a similar pitcher, North Carolina right-hander J.B. Bukauskas."
And as was the case with McCullers initially, there is speculation about Bukauskas's future. A starter by trade, he could spend time in the bullpen instead. Brandon Lute of Prospects1500 said Bukauskas "has the potential and ability to work out of the bullpen this October" after he was drafted. He also wrote that the Stros see him as a starter long-term.
What makes the bullpen such an attractive option?
The two things Bukauskas has going for him are his pedigree (the quality of competition he faced in college) and his repertoire. Coming out of North Carolina, Bukauskas faced top-notch competition for three years. He also played for Team USA.
Going into the draft, Bukauskas was noted for his fastball and slider being quality pitches. "Bukauskas has a fastball that sits at 93-94 mph and touches 98 mph and a hard breaking slider that hits 86 mph" according to Brian McTaggart. These two pitches alone could propel him to a solid spot in the rotation.
But it seems that his changeup is what his future hinges on. If Bukauskas can develop his changeup, the path to staying as a starter is clear.
What Comes Next for Bukauskas?
He only appeared in 3 games after being drafted last year, so the jury remains out. There has not been much talk out of the Minor League side of camp so far. It seems everyone wants to talk about Kyle Tucker. And the first-base competition. And repeating the World Series championship run. So it's no surprise that Bukauskas has not come up much.
Everything about Bukauskas checks the box of a top notch pitcher (check out this pre-draft profile). The simple answer is that Houston management will be watching his development very closely, and that of his changeup, very closely.
Next: Astros: Maybe Tony Sipp is not as safe as we thought
Either way, he is a prospect worth waiting for. There may not be much need in 2018 for Bukauskas with a loaded rotation. This will give the Astros time to wait for him to develop for either role.