Astros winning first World Series costs businesses money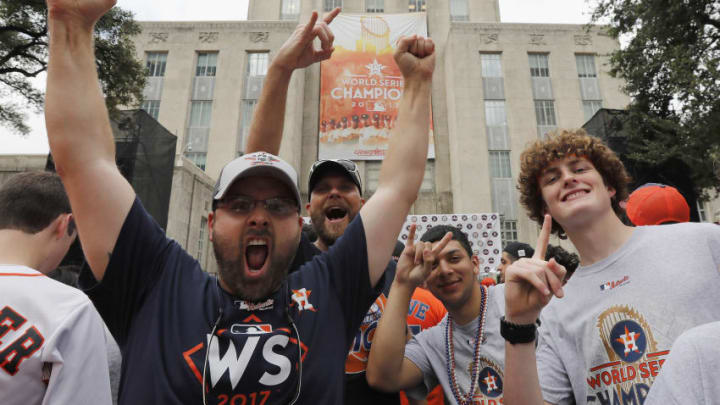 HOUSTON, TX - NOVEMBER 03: Houston Astros fans celebrate at Houston City Hall before the Houston Astros Victory Parade on November 3, 2017 in Houston, Texas. The Astros defeated the Los Angeles Dodgers 5-1 in Game 7 to win the 2017 World Series. (Photo by Tim Warner/Getty Images) /
Gambling and mistakes costs business and an industry after the Astros win it all.
As Pete Rose learned the hard way, you don't gamble on baseball if you are involved with the outcome. However, people bet all the time on baseball. With the invention of fantasy baseball, fans can play GM and try to win money. There is money that can be made if you are into analytics and have discretionary income. Astros fans know that now.
The Astros earned the record World Series share back in November with $438,902 according to AP. This share was higher than the 2014 share from the Giants of $388,606. The Dodgers share was only $259,722, which was down from last years losing share from the Indians.
Overall, the organization and players earned some money with the Astros winning the World Series. Not to mention the fans who cashed in on selling their WS tickets which were around $500 for standing room only in secondary markets. Also, the sale of Astros merchandise has remained constant.
It sounds like it's a win-win for everyone right? Wrong, there were some companies or industry who lost some money as results of the Astros championship. Let's take a look at who they were.
Gallery Furniture
Mattress Mack has been a fixture in Houston for a while. During Hurricane Harvey, he opened his doors for evacuees. He has always helped out the community and is famous for his promotions and revolving door of sales. At the start of the year, Gallery Furniture ran a promotion; if the Astros win it all, you get it all.
You had to purchase $3000 or more in mattresses. Then if the Astros win the World Series, you get that purchase free. When the Astros won it all, Mack had to pay up. He did, about $10 million. Customers still had to pay the taxes, but they got the mattress refunded according to Channel 13. No regrets for Mack, he was glad to do it.
Even though I was confident in the Astros winning, we didn't need a new mattress. Don't feel too sorry for Mack; he was able to use an insurance policy to cover most of it. Plus, some of those people were victims of Harvey.
Vegas loses millions.
Astros fans always put a little money on them winning the World Series before the season starts. The Astros were underdogs versus the Dodgers, so fans invested in their team. Vegas lost $11.5 million on baseball bets according to Patrick Everson. According to Timothy Rapp, this is the biggest loss by Vegas sportsbooks since the 1999 Braves. That was the previous record of $6.2 million loss.
Sporting good stores.
Typically stores have an after Christmas sale to get rid of extra inventory before the year ends. Astros fans thought they had stumbled onto a deal of the lifetime. Dicks Sporting Goods marked down most of the championship gear including but not limited to jerseys, hoodies, and polos.
Dicks could (no clue) have tried to give fans a 10% discount, instead, $145 jerseys were marked down to $9.98. Word quickly spread across Astros Twitter, where people started swarming to Dicks' site. Dicks quickly realized the increased traffic and started locking the items until they corrected the prices.
Fans thought they got a great deal, until Dicks started cancelling the orders. They cited pricing errors as the reason, fans were upset. Meanwhile, Academy thought this was a good way to get good publicity. They tweeted out that they have Houston's back, marking down certain items 50%.
That was not quite $10 jerseys, but I jumped on and grabbed a Justin Verlander jersey. Dicks later decided to honor those customers orders instead of the bad PR. There is no way to get a replica jersey for $10, but some fans did.
Dicks will not come out and say how much they had to eat from that mistake, but it sounds like the orders will take a while to process. Don't cry for them, they made a lot of money from Houston fans after the World Series.
Next: Astros: Keep an Eye on Alex Bregman in 2018
Who wins in all these cases? Astros fans do and it's about time. The team is set to win for the next few seasons and some fans got rewarded for being die hard fans. Happy New Years!!!
***Stats from various links and Baseball-Reference***