Astros: A Glance into 2017 Projections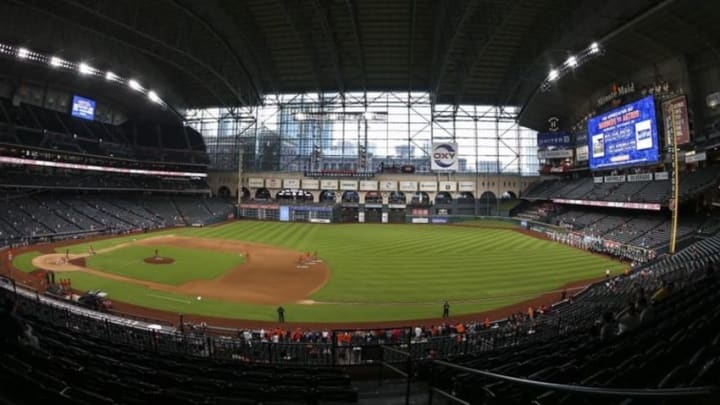 Troy Taormina-USA TODAY Sports /
There aren't many teams who are projected to be better than the Astros in the next calendar year.
Only three teams, the Los Angeles Dodgers, Chicago Cubs and, Boston Red Sox, are projected via Fangraphs to finish with better records than the Astros next year. When you consider what Houston has accomplished since the rebuild began, that's impressive.
However, projections are just that. These numbers aren't infallible. In fact, the Astros could finish with a worse record than 90-72. Or better.
But why are the Astros projected to win 90 games next year?
If you haven't paid attention to the offseason till now, Jeff Luhnow has acquired a trio of position players to beef up the lineup. Well, Carlos Beltran, Josh Reddick, and Brian McCann to be precise.
More from Climbing Tal's Hill
The acquisitions did address positions of need for the lineup: outfield and catcher. Along with Yulieski Gurriel being a part of the team from day one next year, the Astros, in theory, could boast one of the best offenses in baseball.
And the projections from Fangraphs reflect those perceived improvements.
Last season, Houston finished with 4.47 runs scored per game. That was good for 15th overall in baseball. Next year, Fangraphs is projecting 4.92 runs scored per game. Only Boston at 5.00 runs scored per game rank higher in the projections.
See, the offense was quite easy to explain. Pitching, on the other hand, is slightly more difficult.
In 2016, Houston allowed 4.33 runs allowed per game. That was slightly above the middle-of-the-pack, which was a fair description of the team's pitching staff in general.
The projections for next year though paint a similar picture of the pitching staff: 4.35 runs allowed per game. This isn't a negative reaction when you consider the only notable pitching transaction Houston has made this offseason was to sign Charlie Morton. In a way, it is basically a swap of Doug Fister for Morton in the rotation.
To be honest, the starting rotation is why you won't see the Astros be projected as the best team in the American League. Or baseball in general.
On the other hand, the bullpen remains the strength of the team's pitching staff. Between Ken Giles, Luke Gregerson, and Will Harris, the backend is in good hands. Potentially add Chris Devenski and Michael Feliz back into the bullpen mix, and the unit is among the deepest in the game today.
Houston's rotation does have the potential to exceed expectations (see: 2015 season). But that all hinges primarily on the arms of Dallas Keuchel, Lance McCullers, and Collin McHugh.
Next: Houston Astros Christmas Wish List for the 2017 Season
Of course, these projections are fluid. The possibility of a move to improve or subtract from any facet of the team could still happen. As of today, though, the Astros are in good shape for the upcoming year.
**Statistics courtesy of Fangraphs**