Astros: What exactly is Evan Gattis' role for the 2017 season?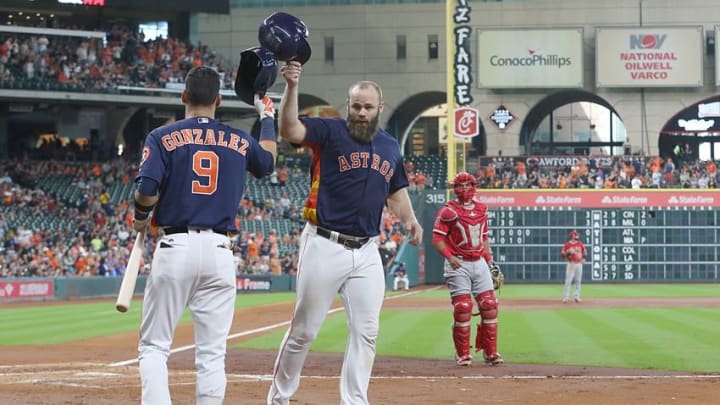 Sep 25, 2016; Houston, TX, USA; Houston Astros first baseman Marwin Gonzalez (9) congratulates catcher Evan Gattis (11) after hitting a home run against the Los Angeles Angels in the second inning at Minute Maid Park. Mandatory Credit: Thomas B. Shea-USA TODAY Sports /
If Carlos Beltran is to be primary DH, you can't help but wonder what Evan Gattis' role will be on the 2017 Houston Astros.
The Houston Astros have had an excellent offseason, but some of the moves have created more questions. When it was evident that Jason Castro was leaving, the Astros wanted to bring in another proven catcher. There were some interesting names out there on the free agent market, but they had question marks attached. The Astros wanted a left-handed hitter to complement Evan Gattis.
Enter Brian McCann, who was about to become the everyday designated hitter the Yankees. McCann is a catcher at heart, but the Yanks had the young star, Gary Sanchez. The two sides were able to reach a deal to bring McCann to Houston where he would be the primary catcher. Gattis would then become the backup catcher.
Last year, the Astros did something that most managers wouldn't even dream of doing. They started their backup catcher as the DH when Jason Castro caught, Gattis would play DH. This opens a whole can of worms should Gattis need to go behind the plate with an injury to Castro. The team would lose the DH for the rest of the game.
Things were starting to make sense when the Astros signed Carlos Beltran to play in left-field. Gattis could still serve as designated hitter. Then manager A.J. Hinch tells Beltran and the media that Beltran will be the primary DH and play some outfield. This complicates things a little with Gattis needing playing time as well.
More from Climbing Tal's Hill
My Talking Stros co-host Brandon feels like you won't see too many games where one of the catchers serves as a DH while the other catches. He also feels that Gattis will get less playing time with Jake Marisnick and Nori Aoki  splitting time in left field. We could also see Gattis get some playing time in left field like he did with the Braves in 2013-2014. Ironically, the reason he played left field with the Braves was McCann.
The two catchers are reunited on a potential playoff team in the Astros. Gattis led the Astros with 32 homers in 2016, and this will be one of the most dynamic catching duos in team history. While it would make sense for the team to trade Gattis for a starting pitcher, don't look for the Astros to do so. Gattis is not perfect, but Hinch will find a way to get him playing time.
Hinch will join us on Talking Stros tomorrow. You can believe that this will be one of the questions I will ask. This team is built to win on offensive power and a capable starting rotation. Nick Cafardo of the Boston Globe said in early December that the Astros would listen on Gattis. Nothing has yet to materialize on that front.
Next: Should Any Prospect Be Untouchable Going Forward?
Gattis may not start every game, but his bat will be in the lineup as often as possible. He will be part of the deep lineup where he may bat 7th or 8th. This lineup will pound other teams in 2017. Gattis will be a big part of the carnage. Luhnow and Hinch are good at getting people playing time.
***Stats from Baseball-Reference***