Astros: Develop Your Own "Ace" Starting Pitcher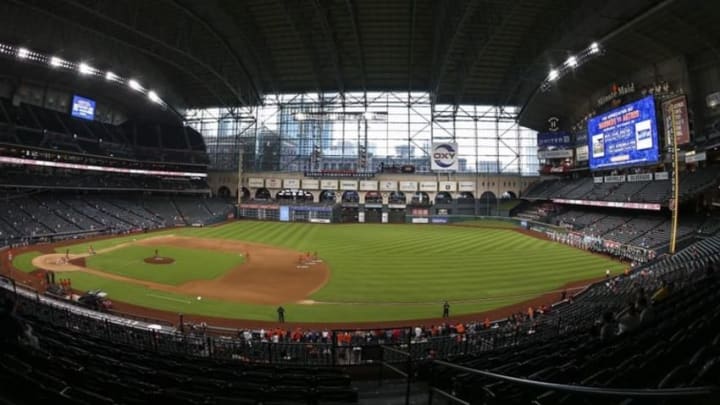 Sep 14, 2016; Houston, TX, USA; General view inside Minute Maid Park before a game between the Houston Astros and the Texas Rangers. Mandatory Credit: Troy Taormina-USA TODAY Sports /
Sooner or later, the Astros have to develop their own "ace" from within the organization.
There is nothing wrong with acquiring a top-of-the-line starting pitcher via trade or free agency. The Astros have done that plenty of times over the years with the likes of Randy Johnson, Andy Pettitte, and Roger Clemens. Each of them performed admirably for Houston.
However, this team has to learn that they need to develop their dependable pitching staff from within. And that also includes developing an "ace" starting pitcher.
A source of pride for Houston's front office in recent times has been their ability to cultivate a strong minor league system. And that system has led to homegrown hitters such as Jose Altuve, George Springer, Carlos Correa, and Alex Bregman.
But on the pitching side, it's a bit more sparse.
Dallas Keuchel and Lance McCullers are two homegrown names that have the capability to headline a playoff contending rotation in Houston. On the other hand, Collin McHugh, Mike Fiers, and Charlie Morton were all acquired by means other than the draft.
More from Climbing Tal's Hill
Now, there are promising arms climbing the system. Francis Martes, David Paulino, Joseph Musgrove, and Forrest Whitely are all top prospects in the Houston system. But don't forget about familiar names that were viewed with same sense of hope and optimism at one point or another: Mike Foltynewicz, Nick Tropeano, Josh Hader, Jarred Cosart, and Mark Appel. None are in the organization today.
Developing pitchers, much less an "ace", is difficult. A troublesome art to master that also requires catching lightning in a bottle.
For example, remember when the Astros had a promising quartet of pitchers in the early 2000's. You may recall them: Roy Oswalt, Wade Miller, Carlos Hernandez, and Tim Redding. All four were talented pitchers. But only one, Oswalt, would have any real long term success in Houston. You would think that maybe one more could've panned out as well. Alas, that's just baseball for you.
Next: Astros 2017 Projection: What to expect from Josh Reddick
It's not the end of the world if Houston doesn't acquire an "ace" this winter. This is still a good team on paper going forward. But it is time to start having the homegrown pitchers develop. For the long term health if the franchise, it may be imperative.