Astros: Current Needs to Address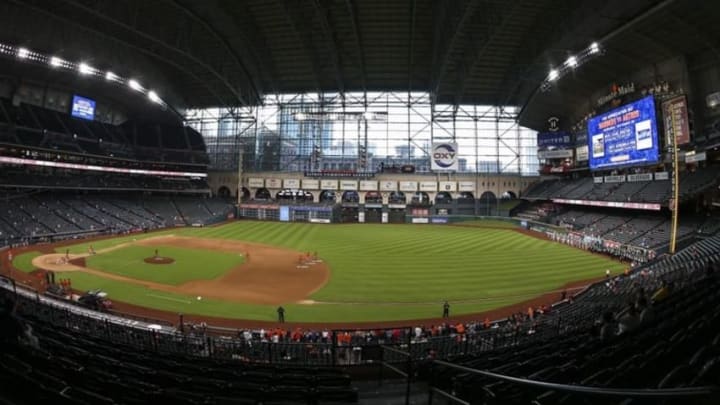 Sep 14, 2016; Houston, TX, USA; General view inside Minute Maid Park before a game between the Houston Astros and the Texas Rangers. Mandatory Credit: Troy Taormina-USA TODAY Sports /
In an expected, yet unexpected way, the Astros have been one of the more active teams this short offseason.
The Astros have addressed quite a few needs thus far. Catcher? Check. Outfielder? Check. Left handed bats? Check. Starting pitching depth? Check.
And so far, the Astros have been one of the more aggressive teams this offseason. The backstory of the Josh Reddick signing proves as much.
But what needs do the Astros have now as we sprint towards Christmas?
Starting pitching
The addition of Charlie Morton was a good start. True, he wasn't the sexy signing that most fans wanted. But it was a step in the right direction.
The need for an additional starter still exists though.
Preferably, Jeff Luhnow would trade a package of prospects for Chris Sale or Chris Archer. But if the starting points in those talks is George Springer or Alex Bregman, it would be wise to move their interest elsewhere.
In that case, Sale's teammate, Jose Quintana, could be a reasonable target. Or Archer's teammate, Jake Odorizzi? If I were in charge of the Astros, Sonny Gray would be an option to explore.
Regardless of the name, another high quality starting pitcher has to be on the Astros short list of needs.
More outfield help
It hasn't been a secret that the Astros outfield last season was definitely lacking. Outside of Springer, there wasn't much help from center or left field. Even the addition of Josh Reddick doesn't completely solve the issue.
Carlos Beltran is one free agent that could help the Astros. The only issue with him is whether he could play left field every day.
More from Climbing Tal's Hill
There are other options too, especially on the internal side. Teoscar Hernandez and Tony Kemp deserve additional looks in the outfield as each played solid baseball in the latter half of the season. There is still the possibility of Jake Marisnick and Preston Tucker improving as well. Either way though, the Astros have to gain help in that area of their roster.
Another left-handed reliever
For as much as I like Tony Sipp, you can't hide the fact that he struggled greatly last season. And what made that situation even less ideal is the fact that the Astros just gave him a brand new contract the offseason before.
However, there isn't much that the Astros can do besides keeping Sipp for at least one more season and perhaps signing a free agent. Marc Rzepczynski or Boone Logan would be two lefties that I would like to see Houston target, if possible. But at the same time, each would probably require a similar commitment that Sipp received last year. It doesn't make sense to tie up a lot of dough to left-handed relievers in the same bullpen.
Regardless, the Astros need to address the lack of quality production from their left-hand side of the pitchers mound this offseason by fixing Sipp or looking elsewhere.
First base production
If there has been a problem child on the Astros roster in recent years, it has to be first base. Ever since Lance Berkman departed via trade not quite a decade ago, Houston has went through numerous first baseman that just haven't stuck.
The primary solution in many fans eyes is to bring Edwin Encarnacion on board to man the position. On paper, that makes sense. After all, the veteran slugger can cover the position while also playing designated hitter as well. That would grant Houston a certain degree of lineup flexibility for 2017.
Not to mention the home runs. Oh, the glorious home runs.
Money and length of commitment would be the biggest roadblocks to any deal with Encarnacion. But with the team's new-found aggressiveness on the market, it is possible to see the Astros commit major dollars to help remedy the position and the lineup.
A.J. Reed, Jon Singleton, and Tyler White also remain candidates for the first base job if Encarnacion goes elsewhere. And while one of the three may end up becoming the answer, it is still not the sure thing that Encarnacion is in the next few years.
Next: Is Astros rotation good enough to be taken seriously?
Many have wondered if this offseason will set up the Astros for future glory in 2017 and beyond. And it is a good possibility that this notion is true. Now, we just have to watch and see how it all unfolds.