Astros: An Active Offseason is Needed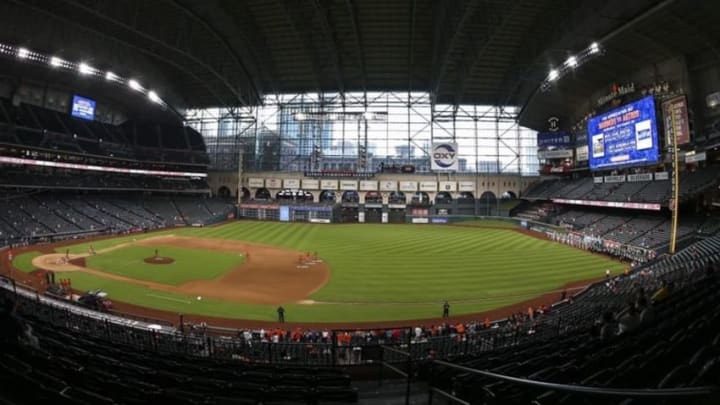 Sep 14, 2016; Houston, TX, USA; General view inside Minute Maid Park before a game between the Houston Astros and the Texas Rangers. Mandatory Credit: Troy Taormina-USA TODAY Sports /
There is a fine balance that the Astros must achieve this offseason.
Building through the draft. Free agents. Trades. Waiver wire. All are parts of the formula of major league roster construction.
And each individual franchise has a tendency to default to one end of the spectrum than another. Today's Astros, for example, tend to trust their minor league farm system more than rival clubs. Homegrown talent taken in the draft in other words.
Thus far, that system has produced an 86- and 84-win teams in the past two seasons. Not an absolutely great record mind you, but definitely not bad.
More from Climbing Tal's Hill
Sure, if general manager Jeff Luhnow and team ownership wishes they could stand pat this winter. There isn't anything particularly wrong about that path. Incremental improvement over the long term. But it may not provide immediate results.
The only way that the Astros can significantly improve this offseason is by acquiring external help, either via trade or free agent signing. And that is why it is imperative that Houston becomes an active player this winter.
But being active only goes so far. Teams also have to be smart and possess the proper foresight to make the right improvements. Making moves for the sake of just being active isn't ideal. Look at the 2000's Astros.
So, where should these Astros aim to improve?
That's easy. Outfield, preferably in the corners. Starting pitching, an "ace"-like one hopefully. First base is a position that's needs to be addressed. Maybe even catcher and another left handed reliever.
But those needs won't miraculously fill themselves. And I bet good money that the Astros know that already. I also hope that they continue to be smart with their money. There is nothing worse than signing a guy to an albatross of a contract in this current market. Next year is a different story though.
Next: Astros Add Nori Aoki via Waivers From Mariners
The core is in place for the Astros. There is no dispute on that front. But to take that next step then it is time to be active in free agency and the trade market. Instead of letting rival clubs acquire the top talent it is time for the Astros to throw their hat into the ring.