Astros: The Prospects No One is Talking About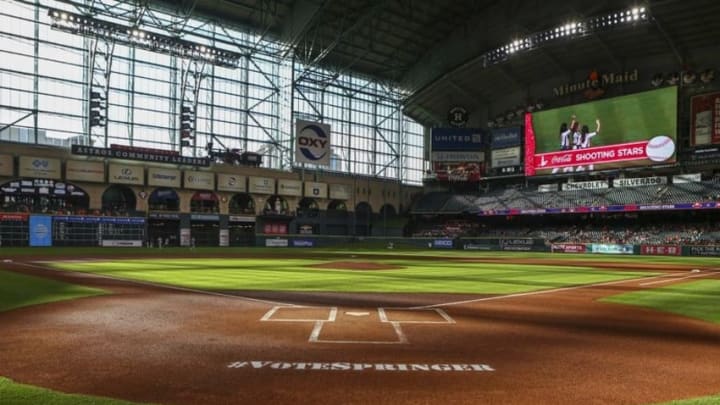 Jul 7, 2016; Houston, TX, USA; General view of Minute Maid Park before a game between the Houston Astros and the Oakland Athletics. Mandatory Credit: Troy Taormina-USA TODAY Sports /
The Houston Astros farm system is full of talent and some are already household names.
Players such as Kyle Tucker, Francis Martes, and Derek Fisher are just some of the more popular players in the Houston Astros minor league system.
What we don't realize is that there are players in this farm system that have value, and yet no one talks about them. Guys similar to Tyler White, who put up good numbers and shows good skills, and yet did not get any rep until he had almost locked up the starting job. There is a handful of players in this system that I like a lot, and I am going to start with a community college product.
Dexture McCall
Dexture McCall is a slugging right handed first basemen who finished 2016 with the Quad Cities River Bandits. At 6'1, 220 pounds, McCall is a big dude and is either a First basemen or a Designated Hitter. He showed a consistent bat, hitting .295 at Tri-City in 2015, and hit .286 in 2016 with the River Bandits. He has a compact swing and brings enough power to all fields to potentially hit for some power.
More from Climbing Tal's Hill
McCall hit 9 home runs in 2016, but had 21 doubles and three triples, suggesting good gap power. He crushed right handed pitching in 2016, hitting .300 in 320 at bats against righties,and recorded a.421 slugging. McCall strikes out a bit more than I like, but draws a decent number of walks, with 39 in 2016. Best case scenario is a guy who could potentially hit around .250 with 15-20 home runs. Possibly even reaching 25 in his best season. He will get on base and play solid defense. It will be interesting to see how he handles higher level pitching.
Garret Stubbs
Garrett Stubbs was an eighth round pick in 2015 and after struggling a bit in A ball, has rebounded and shown significant projectability at catcher. Despite being known as a defensive catcher, he tore up Advanced A ball to the tune of a .291 average and a .442 slugging percentage, and was sent to Corpus. He continued to rake, hitting .325 in 31 games.
He does not strike out often, only striking out 48 times in 326 at bats, and he consistently got on base. 2017 will be a big year for Stubbs, as it is the year he could show us if he is a big time prospect and, given he plays well, could reach Triple A.
Stephen Wrenn
Stephen Wrenn is one of my favorite players in the system. The former sixth round pick is an outstanding athlete in the outfield with a capable bat and above average speed. He plays solid defense and has the range to stay in center.
After a successful career as a Georgia Bulldog, Wrenn joined the Astros farm system as a guy with obvious talent. However, he had questionable bat skills. But thus far we have seen good things. In 36 games at Tri-City, Wrenn hit .282 with an on base percentage of .365. This isn't the stat that has me loving this guy. He slugged nine home runs in his time in Tri-City. Small sample size may be an issue here. Even after being demoted to Quad Cities the former Bulldog struggled to adjust as he hit only .236. He also failed to get on-base as consistently. But Wrenn is the type of player you love to have in a farm system.
Next: Astros: The Catcher Position Needs to be Addressed
Wrenn is a great athlete, has shown flashes of good power, and can steal 25-30 bases in a season. If he continues to develop, the Astros could have a player similar to that of Christian Yelich of the Miami Marlins.
**Statistics courtesy of MiLB.com**