Astros: A Buyer's Mentality is Needed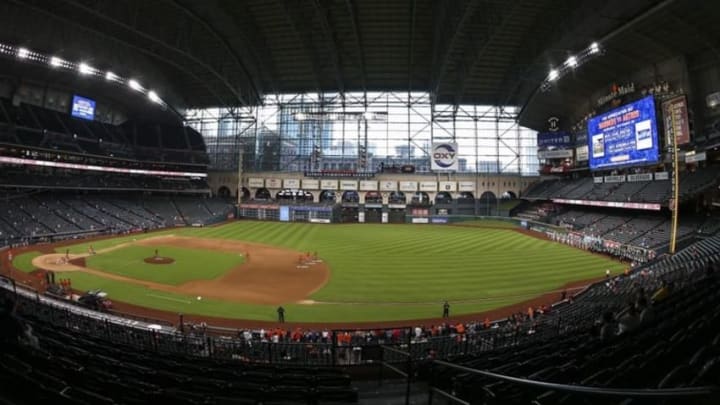 Sep 14, 2016; Houston, TX, USA; General view inside Minute Maid Park before a game between the Houston Astros and the Texas Rangers. Mandatory Credit: Troy Taormina-USA TODAY Sports /
The question has never been the Houston Astros eye for talent. However, the restraints on the payroll have proven to be quite cumbersome.
When you examine the baseball landscape, there are plenty of teams willing to spend money on talent. Sometimes unwisely. In fact, some of the deals that go on today are head scratchers.
The Houston Astros, for all of their flaws, have been fairly successful in staying away from albatross-like contracts. And to note, the Colby Rasmus one-year contract was never that detrimental to the payroll. At least long-term.
But this mindset of practicing a safe approach in free agency needs to change for the Astros. For once, this current ownership needs to open up the purse strings if they want to take the next step.
More from Climbing Tal's Hill
For example, look at the Chicago Cubs. While the "Lovable Losers" naturally have more financial resources available, their front office realized that the only way to dramatically improve the club for contention was free agency. Enter Jon Lester and Jason Heyward. Combined with their influx of prospects, it has proven to be a winning formula.
Now, I am not saying that the Astros have to throw $200 million-plus at one particular player. All that we ask for is the willingness to go out and get more than a marginal upgrade. You know, someone like an Edwin Encarnacion would look awfully good in an Astros uniform. Yes, he will cost a pretty penny or two, and there is concern about his skills in his age-32 season. But that is the type of free agent signing a playoff contender at least considers making at some point.
Of course, there is the issue of this upcoming free agent class being one of the more shallow ones in recent memory. There isn't a notable starting pitcher on the market that would be more than a marginal upgrade. Like Encarnacion, there are a few hitters that are possibly intriguing for the Astros. And there is always a reliever or two that the team could look at to provide valuable depth. Hint, hint, a left-handed reliever would be nice.
Or maybe the Astros ownership will wait to the highly anticipated free agent class of 2018 to make a splash?
Next: Astros: Three Statistics Behind the Struggle in Houston
The Astros have a great opportunity in front of them. This team features a core that not many teams, maybe only three others, can boast. It is time to supplement that talent with free agent signings and/or trade acquisitions. Just not marginal upgrades. Now is the time to spend the cash on notable players.