Astros: Fresno Player Spotlight- The New Pitchers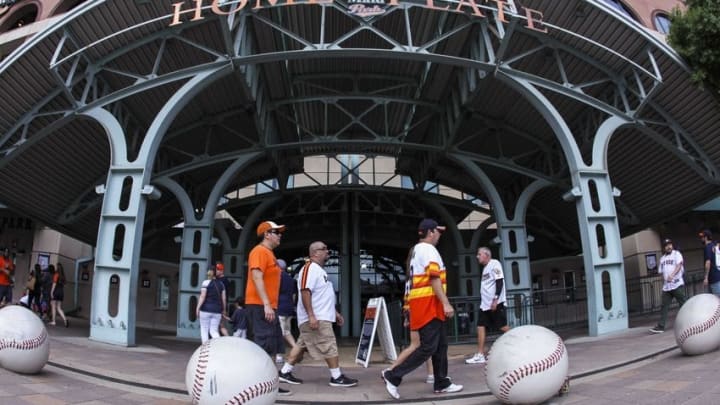 Apr 6, 2015; Houston, TX, USA; General view outside Minute Maid Park before a game between the Houston Astros and the Cleveland Indians. Mandatory Credit: Troy Taormina-USA TODAY Sports /
Some of the Corpus Christi Hooks Move Up in the Astros System.
Apr 6, 2015; Houston, TX, USA; General view outside Minute Maid Park before a game between the Houston Astros and the Cleveland Indians. Mandatory Credit: Troy Taormina-USA TODAY Sports /
Every year at the end of July and the beginning of August, major league teams vying for contention try to improve their team before their playoff run. Most of the Astros moves came from within with the return of players that have had a taste of the major leagues in Tyler White, Preston Tucker, and A.J. Reed, and highly touted prospects in Alex Bregman, Joseph Musgrove, and James Hoyt.
With this influx of promotions, the Triple-A affiliate of the Astros had to make some changes as well. Third, in the Pacific Coast League with a 3.89 ERA, the Fresno Grizzlies gained six new pitchers from Double-A Corpus Christi from July 25th to August 4th. Here is a look at those six pitchers and their expectations for the rest of the 2016 season and the years to come.
Drafted out of LSU in the 14th round of the 2013 draft, Cotton has proved to be a reliable left-handed reliever in the lower levels of the Astros organization.
Spending the majority of his time at Corpus Christi for the past two seasons, Cotton had a 2.53 ERA and 1.26 WHIP in his 49 appearances for the Hooks.
More from Climbing Tal's Hill
He is not known for striking many batters out, averaging only 6.9 strikeouts per nine innings with Corpus Christi. However, one of his strengths is keeping the ball in the ballpark. In his 67.2 innings pitched, he only gave up four home runs.
In 2016, Cotton was lights out for Corpus Christi. In 26.1 innings, he gave up only five earned runs with a 1.71 ERA and 18 strikeouts.
Even though he has limited runs scored against him, Cotton has had some trouble with keeping runners off base. In his four years in the minors, Cotton has averaged nine hits given up per nine innings and 1.9 walks.
Called up on July 31st, those same struggles have shown up in his short career at Fresno. In his ten career appearances, including a brief two-game stint in 2015, Cotton has a 5.85 ERA with a 1.60 WHIP. He averages 13 hits given up per nine innings and only strikes out batters 11.25% of the time.
Triple-A hitters have had a field day with Cotton on the mound. However, with more experience in Fresno, he could become a reliable left-handed reliever for them. The need for a southpaw reliever is still currently at the major league level. If Cotton can put up solid numbers, then he could very well be in talks to be in the Astros bullpen in 2017.
Next: Edison Frias