Astros: Should Astros Fan's Hope for Expansion in MLB?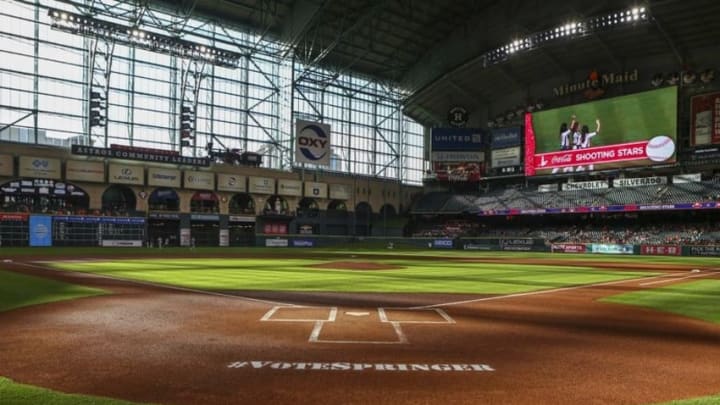 Jul 7, 2016; Houston, TX, USA; General view of Minute Maid Park before a game between the Houston Astros and the Oakland Athletics. Mandatory Credit: Troy Taormina-USA TODAY Sports /
How the Proposed MLB expansion could affect the Astros.
For decades we have seen this pattern formed in major league baseball. As the game begins to grow in popularity, inevitably the questions start to be asked about possible expansion. Then the argument begins.
Those that are in favor expansion give reasons such as to take advantage of the popularity of the game, to expand the major league product into other countries, to give cities an opportunity who have not had a major league franchise or haven't had one in a long time. Those who are against expansion give reasons such as the watered down product due to the number of teams and lack of big league pitching available, the challenge of realignment, and the presence of teams who are already struggling financially.
I'll just say this up front . . . I'm against expansion . . . Except for one aspect of it. (More on that in a moment)
I'm old enough to remember the first expansion I saw as a fan, welcoming the Seattle Mariners and the Toronto Blue Jays to major league baseball. As a kid, I thought it was cool and couldn't wait to see the new logos and uniforms – not to mention those horrid baseball card pictures where the Topps people would paint the hats and to include the new logos.
As an adult, and admittedly somewhat of a purist, I see more harm than good coming from expansion. When teams like Oakland and Tampa have stadiums that might best be described as "not ready for prime time" and other cities struggle to support their teams, I have a hard time thinking "oh yeah, let's add this to more cities across the country" rather than perhaps moving a team or two.
I also look at how hard it is for teams to get five quality starting pitchers and wonder how that would look by adding more than ten more starting pitchers to the mix after expansion.
However, as a die-hard fan of the Houston Astros, I can give one argument for expansion. Mind you it's only one, but it is fairly intriguing.
You see, with expansion, there is speculation that the Astros could be relocated to another division, such as a revamped AL Central, or perhaps even back to the National League, where the Cardinals rivalry could have a little extra spark these days.
When the Astros were in the process of moving the AL West, many of us complained loudly, and I did my fair share of screaming myself. My first complaint was about the move to the American League, away from "real" baseball. They said we'd get used to the DH; I said "NO WAY!" I have to admit, though, I have accepted it as "normal" now (a little part of me just died saying that).
My second primary complaint was about the change to the Pacific Time Zone. Oh my gosh, those 9:10 start times! While I may have adjusted to the DH (a little), I've never gotten adjusted to the late start times.
More from Climbing Tal's Hill
The third and final argument on my list was "who cares about the American League?" I mean, I just didn't care about watching the Mariners, A's, Twins, White Sox, Indians, or for that matter, the Rangers! Honestly, I still don't. Give me the Cardinals, Reds, Cubs and for heaven's sake, the Dodgers!
MLB Commissioner Rob Manfred is on record recently as saying he sees expansion in MLB's future. Whether that is Montreal, Mexico, or in the United States is yet to be seen, but let's just consider the possibilities for a moment, and I want to hear from you…
What are your thoughts on expansion? You've heard mine (I'm against it, but I'd sure like to get back to normal start times).
If expansion was a reality and the Astros could possibly move, would you rather go back to the National League, or simply move to a Central Time Zone division in the American League?
On the second point, I would really like to go back to the National League. I fear with the construction of this team and the farm system, that going back to National League style baseball with no DH could set this team's progress back a couple of years, and I'm not sure I'm willing to sacrifice that (thanks, Bud).
I do believe that the expansion discussion will lead to discussions not only about realignment but inter-league play. While I'm venting, I'll just go on record and say that, regarding inter-league play, I'm kind of over it. It is nice to have a couple of series here and there across the leagues, but it's overdone now and causes more problems for teams either having to adjust to having a DH or not having a DH. That, of course, will lead to discussions about unifying the leagues regarding DH, but that's a topic for another day.
What say you?